Senior Member
Join Date: Feb 2010
Posts: 377
MyGig Bezel Modification
---
So after wanting one for some time I finally undertook the REC to REN/RER conversion. Those that have done it know you'll need a handful of different things to complete the conversion, including some type of bezel, because the dimensions of the REC are different than the REN/RER.
There are a few different ways to do it, but I decided to pick up a third party bezel I found for sale on eBay. However, before I even bought it I knew I didn't like it and that I'd probably want to modify it, since there aren't a ton of other options.
Now a well designed bezel should blend in with either whatever is inside, or outside of it (if the two are different). If you're adding a REN/RER radio it's most likely you want to have something that integrates well with the vehicle, not only electronically, but also physically, and visually.
The eBay bezel does almost the exact opposite for two reasons: One because it has a high gloss finish, while none of the rest of the Commander interior does. Two because it has a textured finish that doesn't typically match what's inside or outside of the bezel.
So I decided to fix both of those things by sanding the bezel smooth, and then painting it with a flat black paint. I wouldn't necessarily recommend this modification unless you know beforehand that it's very possible you'll damage the bezel. I actually got a slight crack in mine but I filled it from the back with some super glue and it still functions normally. The problem is that the sides are very thin, which is just out of necessity, but it makes sanding the bezel tricky to do without damaging it.
I'm actually hoping the guy that sells these on eBay will consider modifying his production to make them look like mine does.
So here is how the original bezel looks:
You'll see the two issues I mentioned, the high gloss finish is one. The second is that although some vehicles do have a dash with a texture to it, the texture on the bezel is totally different but more importantly doesn't match either the finish inside or outside the bezel. It would be too much work to match the outside, which in this case is either silver, wood grain, or smooth grey, so the obvious solution is to match the one consistent thing in all three images, the REN/RER MyGig unit, which is smooth and flat black.
Here's how mine looks:
(BTW I think it looks better in person)
For anybody that might want to undertake it, carefully sand the bezel and finish with Krylon Camouflage Paint in Ultra Flat Black, which O'Reilly Auto Parts should have for about seven bucks.
---
Last edited by Briandl; 12-10-2010 at

10:40 AM

.
Excellent job - the best I've seen so far. Kudos.
---
SOLD: 2006 Commander 4x4, Bright Silver Metallic with Medium Slate Gray, CPP 28U, VES, TTG IV, QDII, 4.7L, Rear AC, UConnect, Hulk Wheels
MODIFICATIONS: P255/65R17 Wrangler SA, Chrome Tow Hooks, 4.7L Badge, Black Grill w/Mopar Grill Guard, All LTD Chrome, LTD Exterior App Pkg, Mopar Molded Mud & Taillamp Guards, Woodview English Burlwood Molded Dash, Dk Slate Gray Leather Console Lid and E-brake Handle, Kicker/Infinity, NAVUS, Bilstein Shocks, aFe cai, Nokya HyperYellow Fogs, Rear Fogs
I trust yours is the lasst picture under the words"here's how mine work"
I am having trouble following the sequence of what it looked liked originally
(your ebay bezel) to the end. It's 9am and I am not firing on all cylinders yet.
Quote:
where does this pic come into play?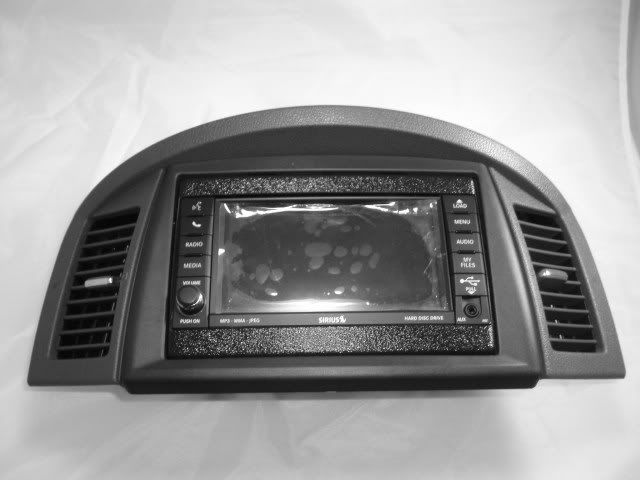 I think the final product looks great. looks natural. I have painted my dash as
well with a flat black. The front removeable piece, not the entire thing.
Can you post a pic of the radio before you took it out, the dash that is? If I am being a pain,
I am just trying to follow you as i plan for a future project. (Digital Propulsion using light actuated sails)
---

To view links or images in signatures your post count must be 10 or greater. You currently have 0 posts.

Benjamin Davis Pirtle
1990-2015
---
Last edited by cico7; 12-10-2010 at

08:14 AM

.
Member
Join Date: May 2010
Location: Raleigh, NC
Posts: 92
I cant see the first few pics either but the final product looks great!. Very impressive.
---

To view links or images in signatures your post count must be 10 or greater. You currently have 0 posts.
06 4.7 Limited 4x4, stock...
Senior Member
Join Date: Feb 2010
Posts: 377
Unfortunately I do not have pics of the unmodified bezel in my Jeep, that's why I used pictures from the seller which are from a 300, a RAM, and a Grand Cherokee.

Same bezel though.
---
2006 Jeep Commander, 5.7 Hemi, OME 2" HD Lift,Robby spacers,New and improved Jeepin by AL UCA,265/70/17 Fierce Attitude on XD Spy 17x8 with +18 offset,Magnaflow Cat Back,4xGaurd Matrix w/hoop,Mopar Chrome side steps, Chrome door handles,Chrome Fuel door,Chrome Jeep bug deflector,AVS window vents,Home made roof lightbar, 2009 Mygig with lockpick,Backup camera.
Member
Join Date: Jun 2012
Posts: 30
I've been trying to make mine work in my 06. Mine looks like D-nice's setup where as BrianDL's looks to be more centered. So, how does this work with the different years? Can the early models be made to center up like Brians? There are metal brackets that the radio slides on and it also secures it. I'm guess you'd have to replace those.

If centering it can not be done, can you buy a bezel or even a dash I guess, for the Mygig radios for the early model Commanders?
Junior Member
Join Date: Dec 2011
Posts: 28
Quote:
Originally Posted by
D-niceCommander
View Post
Looks great D! I've got double din I wanted to do the same with. Do you have any pics of your process with the modification?
Junior Member
Join Date: Jan 2013
Posts: 12
I agree D, that's exactly what I was hoping to do to my dash for the mygig install and keep the handy pocket above. How hard was it to cut and make look clean? What tools did you use? Do you happen to have a thread on the mod?

Thanks so much in advance,
Shaun
Junior Member
Join Date: Nov 2014
Posts: 1
Currently Active Users Viewing This Thread: 1

(0 members and 1 guests)
Posting Rules

You may not post new threads

You may not post replies

You may not post attachments

You may not edit your posts

---

HTML code is Off

---