View Poll Results

: Would you want free Jeep Commander Stickers?

Yes, these are awesome!
37
97.37%
If it isn't a stick figure family it doesn't belong on my ride.
1
2.63%
Voters: 38. You may not vote on this poll
Senior Member
Join Date: Jan 2013
Location: The Lone Star State
Posts: 106
Quote:
Jordan, did u receive what I sent you?
Sure did, thanks so much!
---
▀▄▀▄▀▄▀▄▀▄▀▄ 08Overland ★ LightGreystone ★
To view links or images in signatures your post count must be 10 or greater. You currently have 0 posts.
▄▀▄▀▄▀▄▀▄▀▄▀
I got my decals on saturday and they look great! Thanks MarbleGT!!!
Member
Join Date: Jun 2014
Location: Northeastern South Dakota
Posts: 34
Quote:
I saw that there was a member that provided forum decals for a short amount of time, but stopped for whatever reason. Long story short...I make stickers.
I'm just gauging interest on these. I don't what size I'd go with, or even if the admins of the forum would let me, but the goal here is to provide the community with forum decals. Stickers would have to be small enough to be mailed USPS perhaps a 3"x4" or slightly small would work. I would not accept money for these, as they would be my contribution to the community.
Anyway...here is kinda what I was thinking. Color combos would be up to the person ordering, as long as its not to crazy. I can insert textures, pictures you have, or do any number of color combos and possibly loosely matching your Jeep's color. Here are some examples. It's basically the classic Jeep logo, but I changed the hood line to match that of the Commander and added our lights in. Once again, don't get your hopes up yet, I'd still have to seek approval given there is interest in them.
----------------------------------------------------------------------------------------------------------------------------------------------------------
Update 2/12/13
: I have the go ahead to produce the stickers for JeepCommander.com as long as they are free. I will get them out as quickly as possible, and update this first post as we go so members can see when their sets have been dropped in the mail. Names in bold have been mailed, names that are not bold have not been mailed yet. In return, I can only ask that you keep contributing to this great forum, keeping threads active & showing off those stickers!
Here is what the sticker looks like. It is just the green oval, no black square, and each set contains two of each size, which are 4", 3" & 2" wide.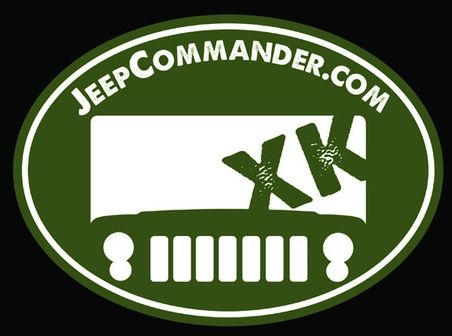 JeepCommander.com Sticker Orders -
Mailed
/ Not Mailed
1)
tbeaulieu
2)
HiJeffinition
3)
rblapham
4)
AllTerrain
5)
rjhj
6)
rhobill
7)
Oleblue27
8)
mrnavy2
9)
BackCountryBob
10)
Atsah
11)
JeepJorge
12)
cgriff54
13)
FLYCAV
14) eivmin
15)
NightFury
16)
CableDawg
17)
indymtb
18)
Commander65th
19)
xktrailrider
20)
Makoshark302
21)
limitedxk
I would appreciate a decal, pm sent.
---
'09 XK HEMI (Gen. II Hemi w/MDS and VVT) Overland 4x4; QDII; Trailer Tow Group IV; Skid Plate Group; 4" Superlift; 285/70R17 Goodyear Wrangler Duratrac's on AEV Pintlers (Argent, JK offset)
Member
Join Date: Jul 2014
Posts: 36
Me too!! You guys still doing this??
---
2006 Limited 4X4 QDII HEMI
Purchased Aug 2014
Currently Active Users Viewing This Thread: 1

(0 members and 1 guests)
Posting Rules

You may not post new threads

You may not post replies

You may not post attachments

You may not edit your posts

---

HTML code is Off

---