Took 3 hours to do this thing! Getting the turn signal wire to come out was fairly difficult because the wire was thicker than for the side marker. I had to pry back the plastic tongue from the housing with a large screwdriver. I have yet to put it back in as I'm waiting for my LED setup to arrive, and want to test with everything easily accessible. Everything was fairly simple except for figuring out how to get the terminal out. I tried for at least 30 minutes with a pick and paperclip and could not find the locking tab until I googled pictures and got an idea of what I was looking for. I then used a needle to move the tab and got the terminal out. I didn't have much left to work with as far as wire, and had to trim off a fair bit of insulation. As it turns out, the heat shrink I have is also slightly large and wasn't a perfect fit, so I jammed the rubber piece overtop of it and used electrical tape. I can't be asked to make it perfect, but hopefully it lasts!
Once I had it all together, I checked resistance and it looked good. Then tried the parking lights and voila, fixed! Though the side marker still wasn't working on either side. I checked the terminals with my multimeter and saw the voltage spiking to turn the light on and off as it should. Replaced both bulbs and we're good to go!
Rubber removed: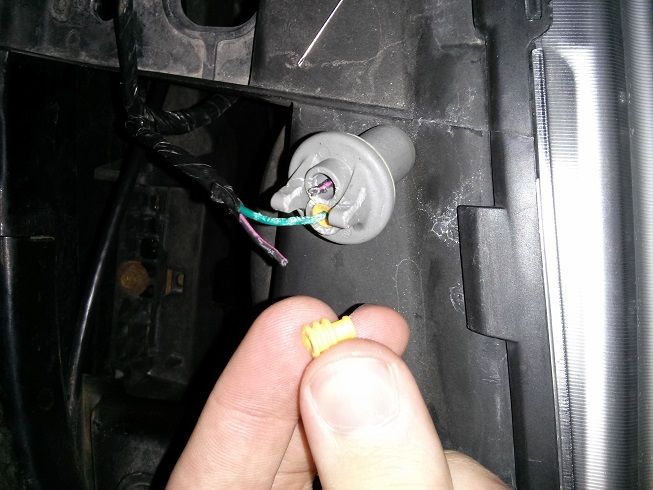 Longer end of wire stripped: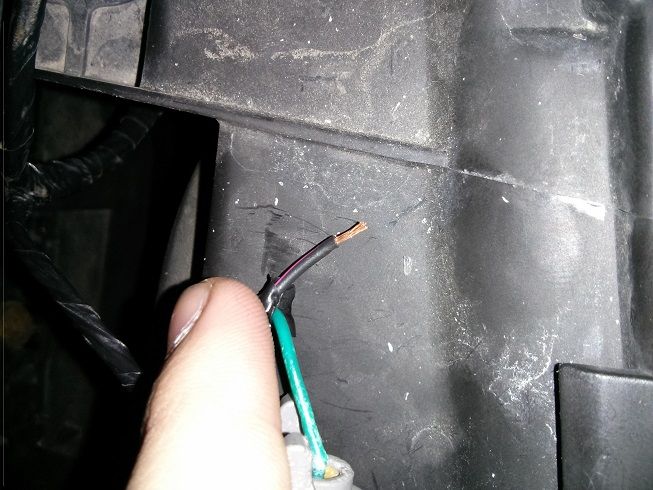 Terminal wire and main wire soldered back together: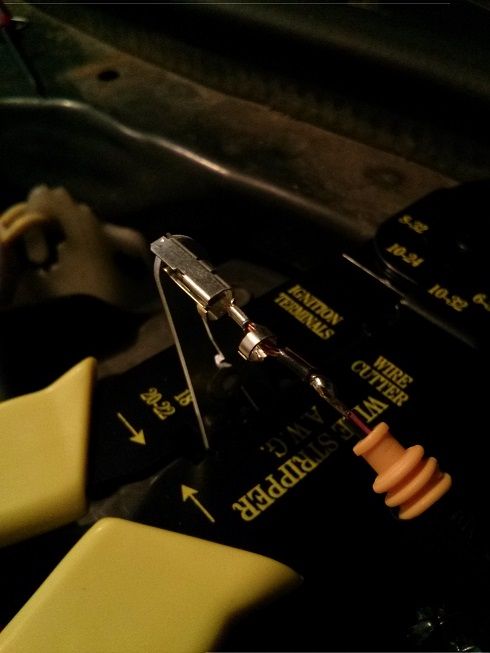 And she works!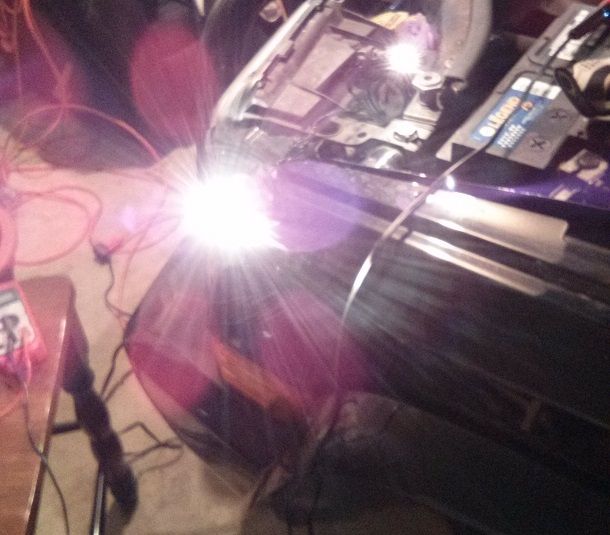 ---
Last edited by Nitemare3219; 01-16-2013 at

02:20 PM

.
you did a great job my friend! the locking tab from a connector to an other varies sometimes its on the terminals sometimes its in the connector. but the whole idea behind my post was so u get the basics of it. lik if terminal is loose it will cause heat that heat causes the connectors to melt in that event u dont bother u just replace the whole connector ect...
the shrink tube pre glued is simply a preference as i do these kind of repair frequently ive found that ive never had infirltation thus corrosion on that repair but with tape time and the elements well u know the rest loll!!

again great job bro!
---
2006 commander limited 5.7 hemi silver loaded and now with hid's hi low and fogs,now with viper 5901 alarm starter combo and idatalink ads al ca ch5,yokohama geolandar I/T GO72
Trouble in paradise! I drove roughly 5 miles and somewhere during that trip I began having an issue again. The wire is still in place and the side marker and turn signal are working properly, however the parking light has stopped working on that side. I'm just not sure how that is possible if the side marker still works unless it only receives power from the green wire and not the one that was damaged. I also don't see how this short trip managed to cause it to stop working again. Tomorrow I plan on testing with the multimeter, swapping the LEDs, and trying a plain filament bulb to see the results. If anything, just break it apart again and redo the job better this time around. Still perplexes me though!
one of the terminals might be loose on the bulb it self. try to tight them a little
---
2006 commander limited 5.7 hemi silver loaded and now with hid's hi low and fogs,now with viper 5901 alarm starter combo and idatalink ads al ca ch5,yokohama geolandar I/T GO72
Well, after I got the side marker out, I jostled the wire some and it worked fine. Then I noticed the green wire was quite exposed as the insulation was damaged, and some of the wires inside were broken. Upon debating if I should just heat shrink it (moved it around a bit), it was very weak at that point and ended up breaking too! So I soldered it back together and just put electrical tape directly over the solder and wire since it formed a tighter seal than my heat shrink on hand could. All is working now.
Since the first time that side marker light went out I have never replaced it. It is a tiny bulb and it is a pain in the butt to get that socket in and out. All of mine front and rear do not work. Doesnt really bother me.
---
'06 HEMI LIMITED LOADED QDII DE-BADGED, TINT, SILVERSTAR ULTRAS, LED TAILS, R/C LIFT, BILSTEINS, KMC XD HOSS WHEELS, DURATRACS, MAGNAFLOW, K&N CAI and OIL FILTER, ROYAL PURPLE, HAWK HPS PADS, RED CALIPERS, LEDs BEHIND GRILLE

To view links or images in signatures your post count must be 10 or greater. You currently have 0 posts.

Currently Active Users Viewing This Thread: 1

(0 members and 1 guests)
Posting Rules

You may not post new threads

You may not post replies

You may not post attachments

You may not edit your posts

---

HTML code is Off

---