Junior Member
Join Date: Oct 2016
Posts: 3
Questions abt PCV
---
Hi guys, new member here
My wife got me a 2007 Jeep commander 3.7L (can't complain)
and I'm starting to run into some issues..
Long story short, I was poking around the front, I noticed couple of valves (guessing) that kinda look like they're leaking, but I can't seem to find diagrams or info on what they are...
I think this is the PCV? (driver's side)
This is one of the "valves" that seems to be leaking some oil (passenger's side)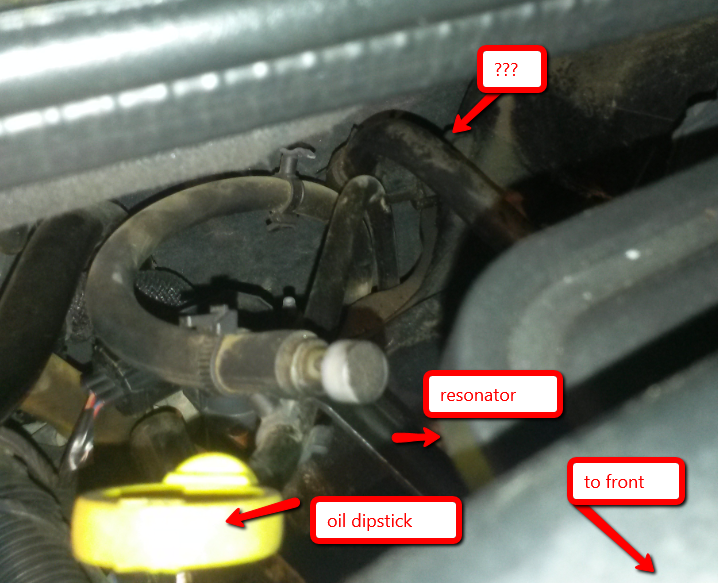 And this is the other "valve" that seems to be somewhat leaking (passenger's side as well). This is connected to the hose that goes to the air box.
(another view)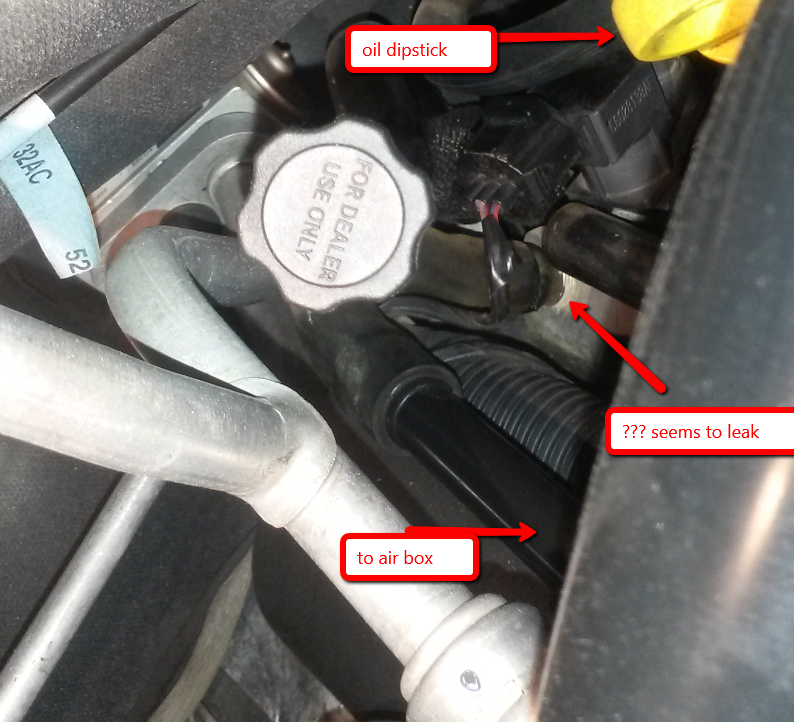 Please excuse the awkward photos
Can anyone share some insights as to what these parts are? Some of them look very inaccessible, has anyone around here needed to replace them?
Appreciate the help!
Senior Member
Join Date: Dec 2014
Location: East Meadow, NY
Own a Commander?: Yes
Model year: 2006
Trim Package: Limited
Power-Train: 5.7L V-8 Hemi
4WD
If 4WD - system: QD-II
Current Mileage: 120000
Posts: 309
Sorry, not to much help from me. I have minimal knowledge of the 3.7 and I am not near my manuals to look it up for you, AllData does not work where I am at.

With that said, the first picture does appear to be a PCV location with minimal residue flash. Do you hear air from these? You can buy an all new plastics tubing kit from the dealer for all the 'hard' line air that is on top of the motor. This is actually a replacement interval item at around 75,000 miles or more. I always keep the plastics fresh at 7 to 10 year intervals on vehicles I have maintained.

Should be less than $100 to change all of it. PCV valve is super cheap not to just change it out anyways just for general purpose.

The bottom picture could be, if it is coming from the air box, an oil return line back into the oil reservoir. Some vehicles have a 'catch can' like portion in the air intake and lets the heavier particulates fall back into the pan.

Again, no real world experience with the 3.7, just educated guesses.

Dave
---
'06 Hemi Limited 4X4, 6(ish)" lift, 35" General Red Letter, 2" spacers, Mopar CAI, RER and mygig lockpick, blue Interior LEDs, stub antenna 3", Callahan Red Brake set, 6.1L SRT8 exaust headers, full custom 3" exhaust from headers back, Fastman 847 ported TB, BBK Fuel Rails, 6.1L injectors, JBA UCAs, Nitro gear 4:10, SA hidden front winch mount.
Junior Member
Join Date: Oct 2016
Posts: 3
Junior Member
Join Date: Oct 2016
Posts: 3
Currently Active Users Viewing This Thread: 1

(0 members and 1 guests)
Posting Rules

You may not post new threads

You may not post replies

You may not post attachments

You may not edit your posts

---

HTML code is Off

---