Join Date: Jan 2006
Posts: 401
Haags Garage
---
Here's a picture of my Jeep from the start - Brand new on January 20, 2006...
Mods since then include Airaid CAI, Borla exhaust, and NKG plugs.
Join Date: Jan 2006
Posts: 401
I had been waiting to do my lift and larger tires until the Forteras needed to be replaced. Well I am certain that at least two will not pass my next inspection (after 30k miles and 3 years – not great to say the least). So over the past couple weeks I've been collecting the parts needed to "enhance" my Jeep – finally! I had planned on going with Old Man Emu, but since I had a fixed amount (allocated my the Mrs.) I decided to stretch it and make several upgrades for less money.
I purchased a used RR lift from another forum member and installed it completely myself - I have minimal experience with mechanical projects, mostly limited to changing plugs and filters. So I was very nervous about getting stuck in the middle of the project and having to be rescued by a real mechanic. But all has turned out very well so far, with a few additional tweaks left to do. Here are some before and after pics and highlights…
Stock height front and rear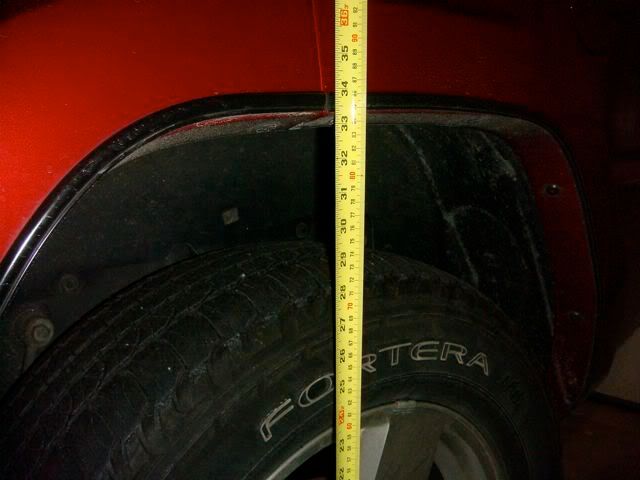 After lift front and rear. Effective lift with tires is 4 inches front, 3+ rear. Not too bad.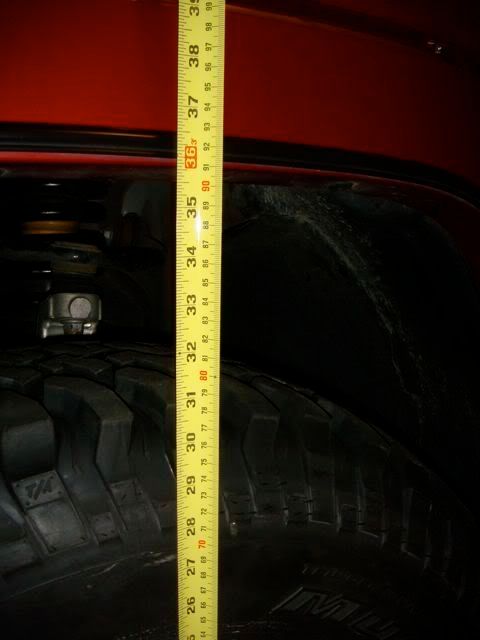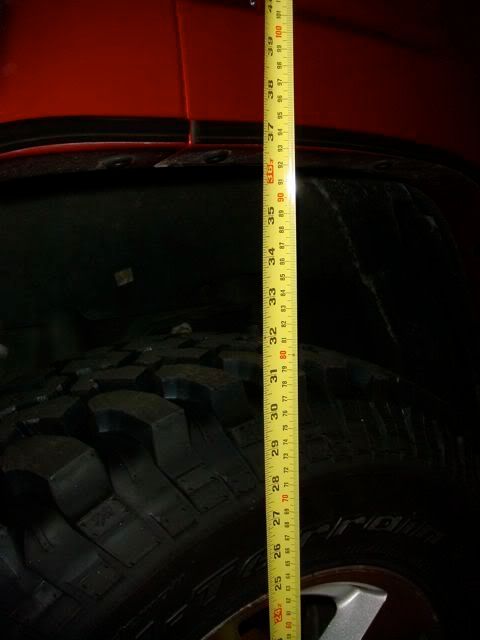 Join Date: Jan 2006
Posts: 401
Before spacers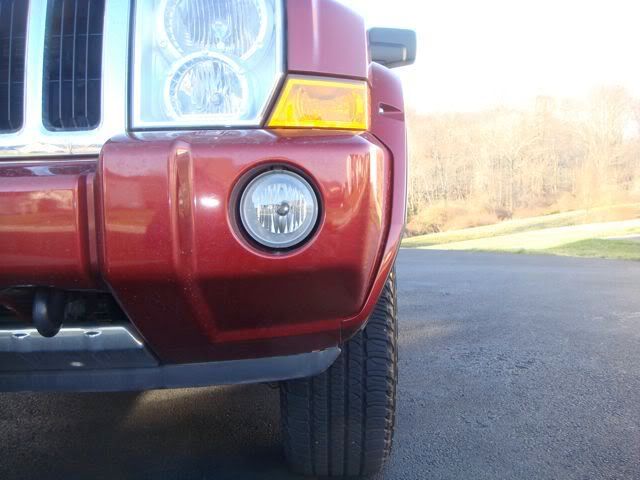 After spacers and tires
Lifting the front end took me about 5 hours to complete installation. The most challenging aspect, consistent with other forum members' experiences, was replacing the bolts on the strut plate. Five of the eight came out with some modest pounding of a 2-pound sledge, but three I had to cut part of the head off with a hacksaw to get past the spring. Seven of the new bolts went in fine, but I had to go to the grinder (on part of the strut) for help with one of them.
Here is the result of the front-end lift. I had to drive around a little with only the front lifted, and I felt like I was towing or hauling something that was making the rear end sag…
The rear was easier, but still took a good three hours by myself. I found the hardest part was figuring out the best configuration of lifts and jackstands to allow the springs to come out and go back in with the spacers. I think the current Rocky Road instructions result in a dangerously unstable setup for working, and I also couldn't successfully replicate the setup that was presented on this forum for the OME lift. I found the best way was to have both sides high on the jackstands and even with each other. The only other challenge was removing the bolt on the upper control arm (which rests on the gas tank if not removed). It is very hard to get to through the spring and was on there very tight. Reassembly was made much easier by putting the bold back in the opposite direction.
Join Date: Jan 2006
Posts: 401
Here is the final product – it looks better than I expected!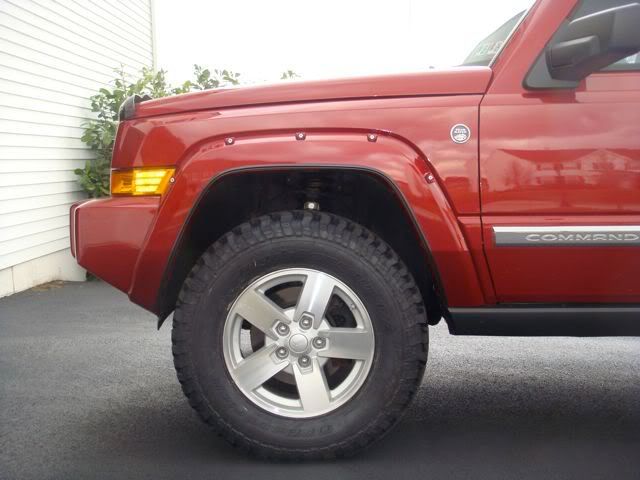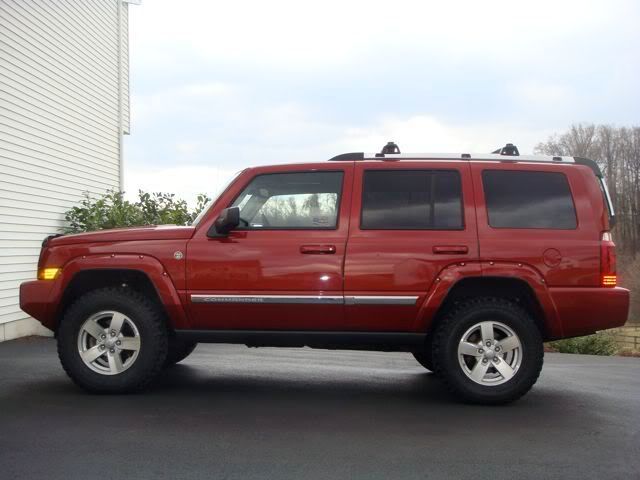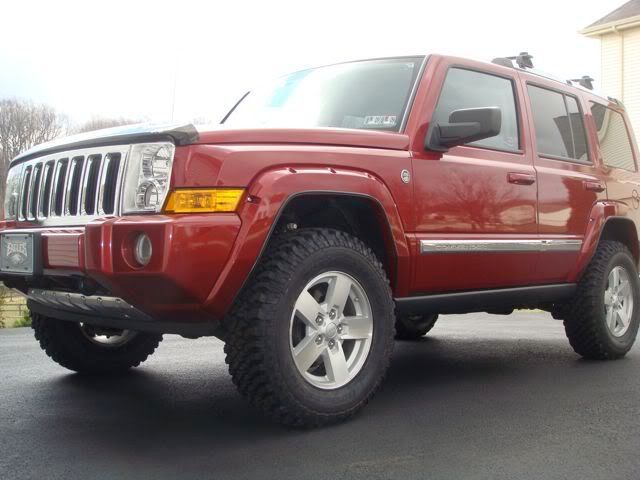 There was significant rubbing as expected. I cut out a small area last night and pounded the pinch weld down quite a bit. I want to work it down some more to make sure it's completely clear. It currently misses by about an inch, but I am worried that it will rub the first time I hit a bump while turning a corner. Since the tire would now be hitting bare metal, I don't want to tear out chunks of rubber.
I have to say that this forum is invaluable and I could not have done this without all of the previous posts as reference. So thank to all the pioneers!
Next up are the supersliders…
Fantastic job, looking forward to more pics!




Join Date: Jan 2006
Posts: 401
Quote:
Fantastic job, looking forward to more pics!
Thanks! I hope to get some action shots and not just pics from my driveway...
Join Date: Feb 2008
Posts: 1,021
very nice job on the mods. great looking jeep.
WOW love the look of tire/lift combo! And congrats on doing the lift yourself!
Lookin' Mean, good Job!! I too am waiting for the Forteras to wear out! Gives me time to save up...
Currently Active Users Viewing This Thread: 1

(0 members and 1 guests)