Front recovery points
---
I need someway to pull from the front. My main goal is front recovery shackles. Not the mopar hooks. I Also want to keep my fog lights.
I am thinking instead of a custom bumper maybe just adding shackle points to my stock bumper. Kinda keep the stock look. like this
http://www.thenewx.org/forum/showthread.php?t=16363
I think 4xguard matrix would work. But, I want something cleaner, though( no offense to anyone). If I was going to custom, Gomad, Kennesaw, type, etc. I would probably go overboard(10 K winch) adding extra weight.
What do you guys think?
I would highly recommend doing something similar to what Yeggster did on his XK. Instead of putting a hitch receiver on the front crossmember, install tabs for the d-rings. Then you would have the added support of the front crossmember for when you are getting pulled out.
https://www.jeepcommander.com/forums/...ead.php?t=9782
---
2007 4.7 Liter XK | Front OME MD Springs w/Superlift Preload Spacer | Rear 4" Superlift Springs | Bilstein 5125 Rear Shocks | JBA UCA's | Rusty's Rear Adjustable Track Bar | Black Rock 997 Wheels | Fred Goeske 1/4 Inch Wheel Spacers | 305/70R17 Goodyear Wrangler MT/R w/Kevlar | Airflow Snorkel | Flowmaster 40 Series Muffler | Superchips Flashpaq | Mopar Skids | 4xGuard Belly Guard | American Rebel Rear Diff Cover | Rear Powertrax No-Slip | Front E-Locker | Rear Heat/AC Delete
Moderator
Join Date: Mar 2007
Location: Lake Havasu City, Arizona
Own a Commander?: Yes
Model year: 2006
Trim Package: Sport
4WD
If 4WD - system: QD-II
Current Mileage: HueyPilotVN
Posts: 2,248
Here is one way to add a safe anchor point for pulling someone using the front of your Commander. It is not the least expensive way to do it. The first mod that I made to my Commander was to install a Blue OX base plate in order to be able to tow the Commander behind my motor home. The base plate connects both frame rails in the same way as the front crossmember does and adds stregnth to the front end. The connections are made in the same location as the tow hooks would be installed. This base plate is rated for 10,000 pounds of weight. A side benefit is that you can used the forged connectors with a hook or a "D" ring as secure anchors. I had to do a little modification to the "Get Lost" bumper when I later installed it. The combination of the two makes the front end even stronger.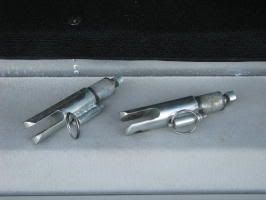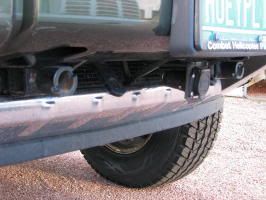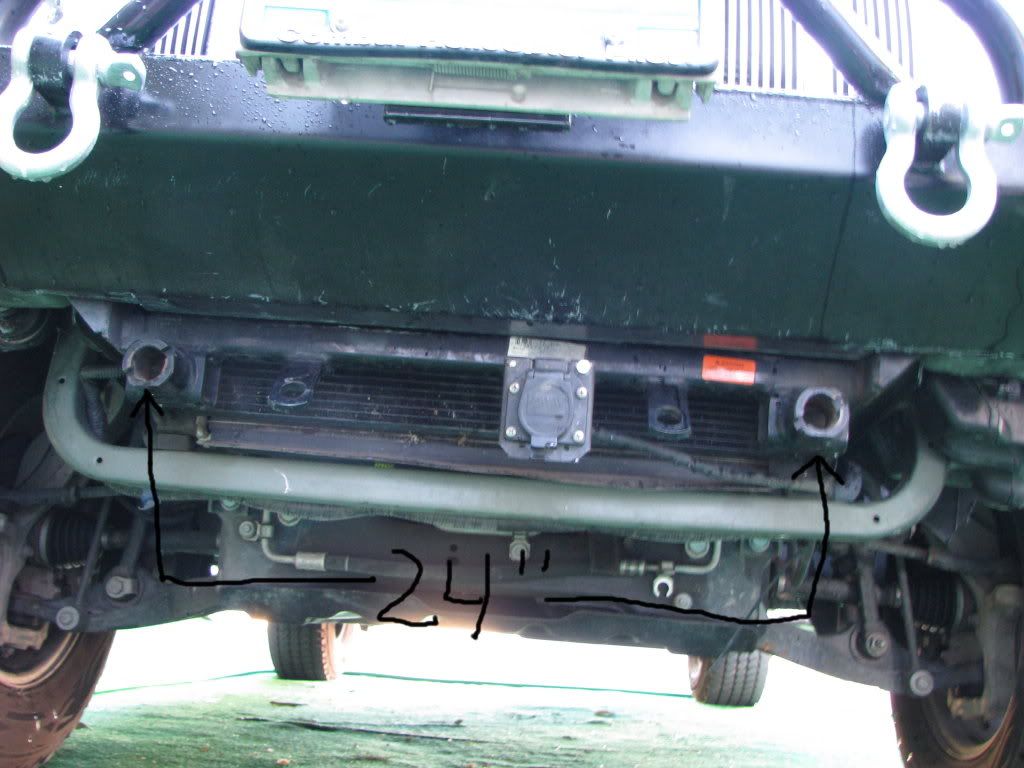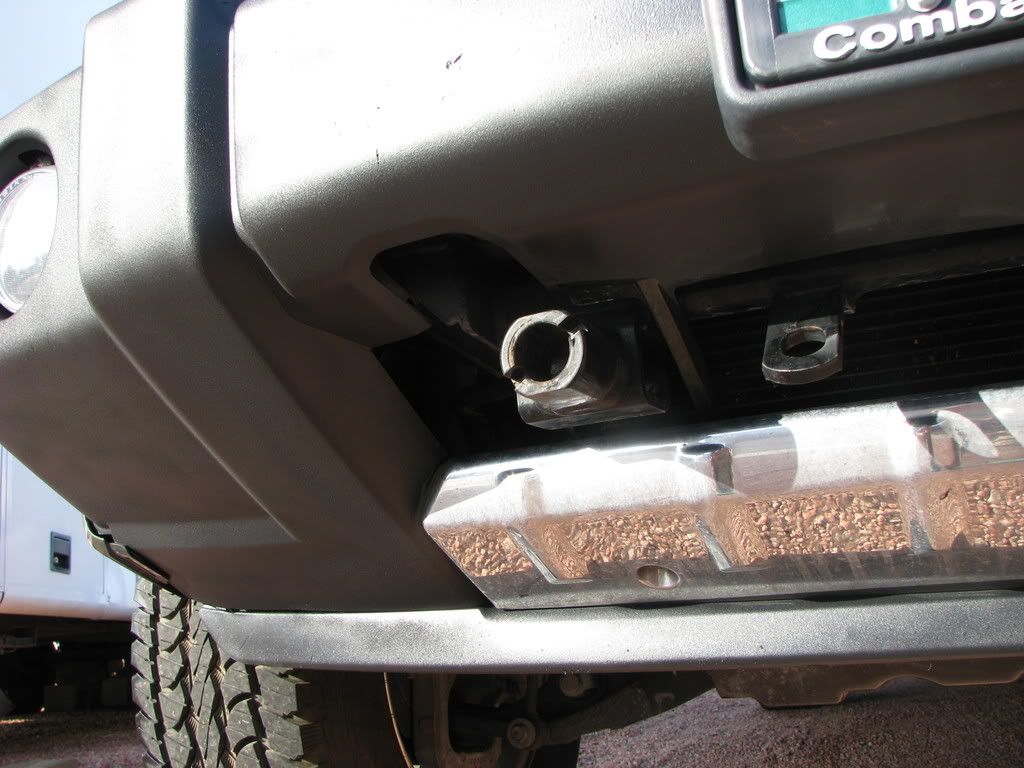 ---
2007 Jeep Green Limited 4.7 Flex Fuel, RR 2.5" 4 inch Superlift coils on rear, 1.5" Spacers, Bridgestone 265/70/17, K&N CAI, Flowmaster, Diamond Plate Locking Trunk, Blue Ox Baseplate w/D-rings, "Get Lost 4X4" Front Bumper, T-Max 9000 winch, "Get Lost rear tire carrier, 30 gal second gas tank.
Second 2007 Jeep Green Limited Leather HEMI QDII VES Uconnect Flowmaster OEM Skids Tow Package

Maybe the two will meet up soon edit: they did , I now have 2,now gave 1 away...and got it back again.
I'm not sure which part of the Matrix is "unclean" to you, but if it's all the add-on in front of the bumper you could call 4xGuard and see if they'll sell you a Matrix Basic, which provides the bracketry and mounting for D-ring shackles only. It's extremely unobtrusive at that point, I think. Bolts on quick. Here's a design shot of the Basic with the optional Receiver Mount added between the shackle mountings:
I just don't know if they're selling the Basic as a separate unit anymore. I don't think it's on their new website.
And Huey, that set-up is pretty brilliant. (Like a lot of your mods!)
About a year ago, GetLost4x4 was fabricating for the Commander. He made me a front hitch receiver prototype. It's a great idea and works great. With this, you can mount whatever you want to the front bumper. I think someone could pick up where he left off. Considering he's no longer in the business, there's no harm in showing detail pics.
I have a portable winch mount that I can put in the front or rear 2" receiver. But you could use a D shackle or whatever they call them.
The unit mounts on the cross member that's under the plastic bumper fascia. I can't remember if I posted a mod thread or not. He quit the business and went back to college while I was doing this eval/mod.
I think he was going to sell these for around $350 each. I really like the stealth look when nothing is attached.
Edit: P.S. I have a lot more pics taken during the install if anyone wants them.
---
Last edited by GPintheMitten; 02-14-2010 at

12:31 PM

.
For that matter, if enough people were interested, and I could get Ross's (GetLost4x4)'s permission, I could see if someone would want to manufacture these front receiver hitches for a group buy. I would have to take it back apart and take it to a fab shop for duping.
You're absolutely right about the benefits of a front receiver hitch, GP. I
love
mine.
Like you said, the flexibility of being able to move a portable winch front or rear is really useful. I've had to pull both ways (silly Hummers). I like, too, that the winch doesn't just sit on there all the time, weighing down the front end and generally rotting in the elements (or worse yet getting ripped off).
Hmmm... for maximum flexibility maybe I need a receiver hitch on the side, too...
Instead of " I want something cleaner" I guess I should have said I wanted something stealth. I think that the matrix basic would be a great option. The fact they have already done the measuring and testing, would be worth going that direction. I would be very interested.
I also liked the idea GP showed. I love the photos of our trucks in the "bare" ! makes it easy to sketch up ideas.
Thanks Guys
I have seen GP's setup in action and it is sweet.
---
Old Rides: 2007 Black XK Sport 4.7 L: Totalled:
2006 Light Graystone XK Limited Hemi : Traded-in
New Ride: 2012 Dodge Charger R/T
The world will not be destroyed by those who do evil, but by those who watch them without doing anything.
Prof. Albert Einstein
Currently Active Users Viewing This Thread: 1

(0 members and 1 guests)