Another Cross Bar/Roof Rack question.
---
I recently purchased the rage powersports large roof rack and while anticipating it's arrival I remembered I have the production style cross bars (the curved ones). Here's a picture of the hardware that will come with the rack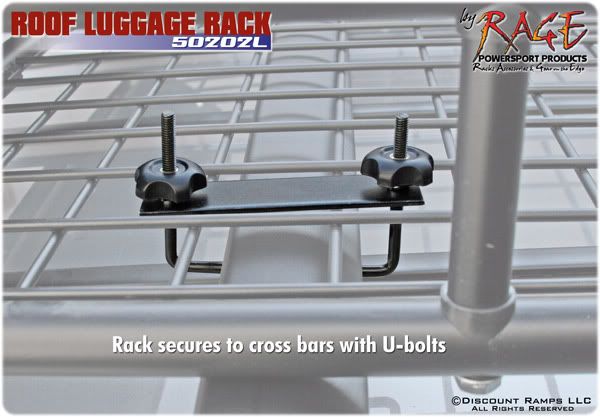 My concern is, since the cross bars are bowed there will be a huge gap between the cross bar and the rack on the sides. Plus since the rack is so wide and the cross bars have huge knobs to tighten them in place I'm afraid they'll hit.
Anyone have pictures of their rack on the cross bars I have or any idea if the rack will clear at all?
Here's the link where I bought the rack and it has all the dimensions and specs there:
http://www.discountramps.com/roof-luggage-rack.htm
Just my opinion here. The way those mount always scared me. What's to stop it from going left to right with a heavy load on it? Just never looked that secure to me. Remember you may be going down the highway at 75 mph with a bunch of weight on there........
Junior Member
Join Date: Oct 2011
Posts: 6
Hi,

changed my curved bars for straight 2 inch aluminum bars. cargo bag cinches right up 50-70 mph on the road they whistle a tune! now I know why they come stock with curved bars its an aerodynamic thing! still like the looks of the straight aluminum bars, no give in em.
Currently Active Users Viewing This Thread: 1

(0 members and 1 guests)