Junior Member
Join Date: Apr 2009
Posts: 14
roof rack for bikes
---
Quick question what is the best roof rack for mounting a couple of mountain bikes to the roof. I don't know much about roof rack but I did see the oem cross bars on ebay....would that roof rack work and what hardware would I need . Thanks
Moderator
Join Date: Mar 2007
Location: Lake Havasu City, Arizona
Own a Commander?: Yes
Model year: 2006
Trim Package: Sport
4WD
If 4WD - system: QD-II
Current Mileage: HueyPilotVN
Posts: 2,248
I cannot help you with the roof rack question. I carry two bikes on a receiver mounted bike rack. It still works even with the spare tire carrier from Ross.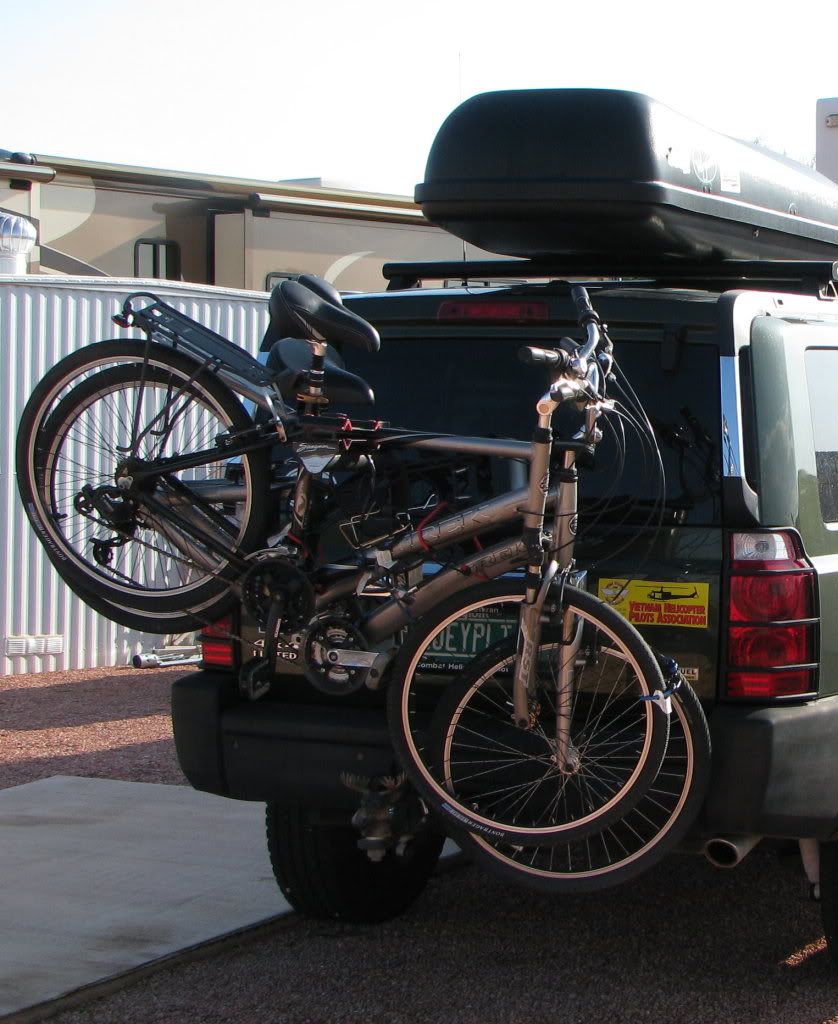 ---
2007 Jeep Green Limited 4.7 Flex Fuel, RR 2.5" 4 inch Superlift coils on rear, 1.5" Spacers, Bridgestone 265/70/17, K&N CAI, Flowmaster, Diamond Plate Locking Trunk, Blue Ox Baseplate w/D-rings, "Get Lost 4X4" Front Bumper, T-Max 9000 winch, "Get Lost rear tire carrier, 30 gal second gas tank.
Second 2007 Jeep Green Limited Leather HEMI QDII VES Uconnect Flowmaster OEM Skids Tow Package

Maybe the two will meet up soon edit: they did , I now have 2,now gave 1 away...and got it back again.
Senior Member
Join Date: Mar 2008
Location: Annandale, NJ
Own a Commander?: Yes
Model year: 2007
Trim Package: Overland
Power-Train: 5.7L V-8 Hemi
4WD
If 4WD - system: QD-II
Current Mileage: 232,700
Posts: 953
I would think getting bikes up on the roof would be a royal pain in the tuckus (without a ladder)! Maybe consider a receiver hitch carrier like Huey.
My thoughts are that a bike on top would be to tall and you may hit your bikes on low clearance items.




I agree with everyone else... I have a hitch mounted Saris rack for my bikes as well... it will hold up to four bikes
I have a Thule 4 bike rack....can still open rear window and it folds down to access the hatch. Yakima makes similar. Just make sure to get a good hitch lock and integrated rack lock and you will be fine.
I have a Yakima MegaWarrior Basket and have 2 Yakima Copperhead Bike Carriers Mounted to it. I have the racks facing tword the rear so that I can climb up on the back bumper to put the bikes on. The bikes I put on top are pretty light weight so it isn't to hard to jump up and put them in. I also have a THULE hitch mount rack that holds four bikes...you can swing it away so you can get into the tailgate. Both work great!
Currently Active Users Viewing This Thread: 1

(0 members and 1 guests)