FREE: Black Fuel door
---
Hey guys,
I just realized I have my old black fuel door from my old commander laying around. (I replaced it with a chrome fuel door) If anyone needs it for there Jeep just PM and let me know and you can have it, just pay shipping. Only worthy causes please i don't want anyone asking for it who is just going to try sell it on. My last Jeep thing
I have
Jake (asufrodo)
---
2007 Jeep Commander Limited Loaded 4x4 - 5.7 V8 Hemi - RR 2.25 Lift - Spidertrax 1.5 inch wheel spacers - MagnaFlow Exhaust System Cat back - Airaid CAI - 245/75 BFG AT
Moderator
Join Date: Mar 2007
Location: Lake Havasu City, Arizona
Own a Commander?: Yes
Model year: 2006
Trim Package: Sport
4WD
If 4WD - system: QD-II
Current Mileage: HueyPilotVN
Posts: 2,248
I am interested. I have a thread on here somewhere where I planned on putting a fill station to the right of the regular filler cover. I plan on connecting a hose to the output of my transfer pump and running the hose to a valve so that I can fill a gas can or another Jeep from my second gas tank. I thought I would put a second gas fuel door to the rear of my current fuel door. Here is a picture. Also looking at your fuel door does it look like I could cut a circle in the sheet metal and mount the fuel door over it.
Here is the link to the Trailside Gas Station
https://www.jeepcommander.com/forums/...ad.php?t=12189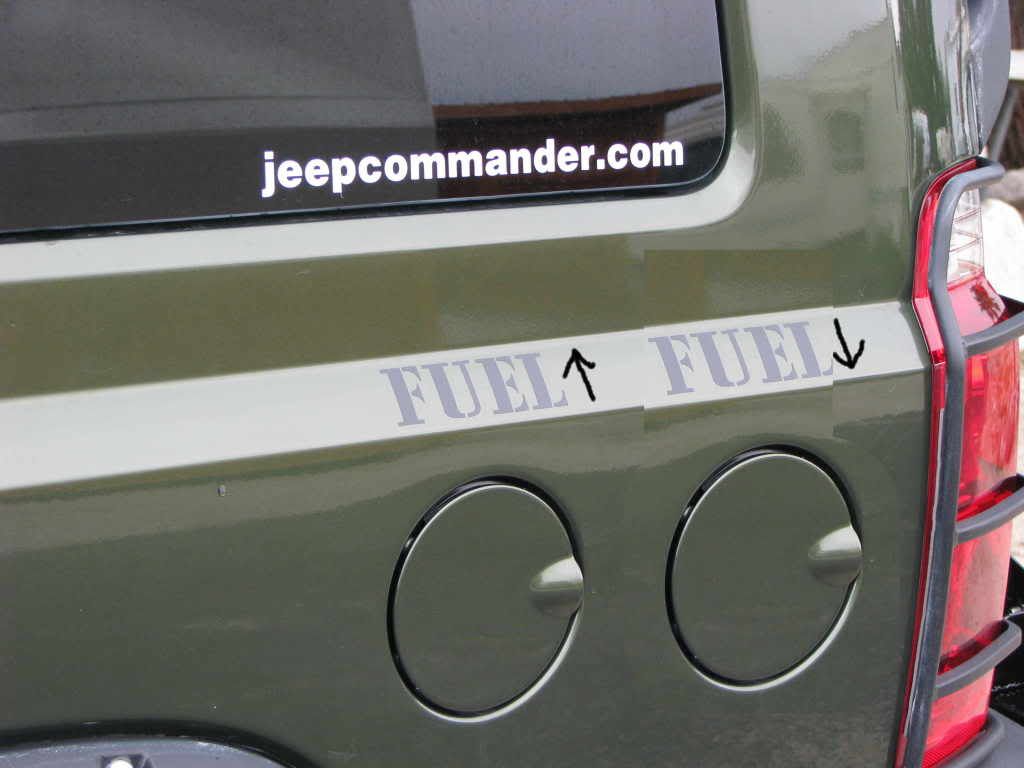 ---
2007 Jeep Green Limited 4.7 Flex Fuel, RR 2.5" 4 inch Superlift coils on rear, 1.5" Spacers, Bridgestone 265/70/17, K&N CAI, Flowmaster, Diamond Plate Locking Trunk, Blue Ox Baseplate w/D-rings, "Get Lost 4X4" Front Bumper, T-Max 9000 winch, "Get Lost rear tire carrier, 30 gal second gas tank.
Second 2007 Jeep Green Limited Leather HEMI QDII VES Uconnect Flowmaster OEM Skids Tow Package

Maybe the two will meet up soon edit: they did , I now have 2,now gave 1 away...and got it back again.
---
Last edited by HueyPilotVN; 05-24-2010 at

11:18 PM

.
Currently Active Users Viewing This Thread: 1

(0 members and 1 guests)
Posting Rules

You may not post new threads

You may not post replies

You may not post attachments

You may not edit your posts

---

HTML code is Off

---