FS: K&N Intake (160 shipped) 3'' Stainless Gibson (320.00 shipped)
---
Hey Guys, I'm making the attempt to slowly part out a few pieces on my Commander. If you are interested in anything please email me at
[email protected]
thanks
K&N Intake FIPK 160.00
3'' Gibson Stainless Catback 320.00
Mopar Ipod Integration Direct Connect 150.00
24'' Dvinci Volore Color matched Pirelli Tires 3,500.00
Black Tow Hooks 60.00
Mopar Lowering/Leveling kit 1'' front 2'' rear. 320.00
Thanks
---
Last edited by ShinyBlackHEMI; 10-29-2007 at

01:12 PM

.
Also for sale are SRT8 pedals.
Quote:
Originally Posted by ShinyBlackHEMI
Hey Guys, I'm making the attempt to slowly part out a few pieces on my Commander. If you are interested in anything please email me at
[email protected]
thanks
K&N Intake FIPK 160.00
3'' Gibson Stainless Catback 320.00
Mopar Ipod Integration Direct Connect 150.00
24'' Dvinci Volore Color matched Pirelli Tires 3,500.00
Black Tow Hooks 60.00
Mopar Lowering/Leveling kit 1'' front 2'' rear. 320.00
Thanks
How many miles on the springs? Can you give me a picture of the car?
CT OVERLAND- the springs i had installed at the end of August. They may have 700 Miles on them if that?
[IMG]
[/IMG]
[IMG]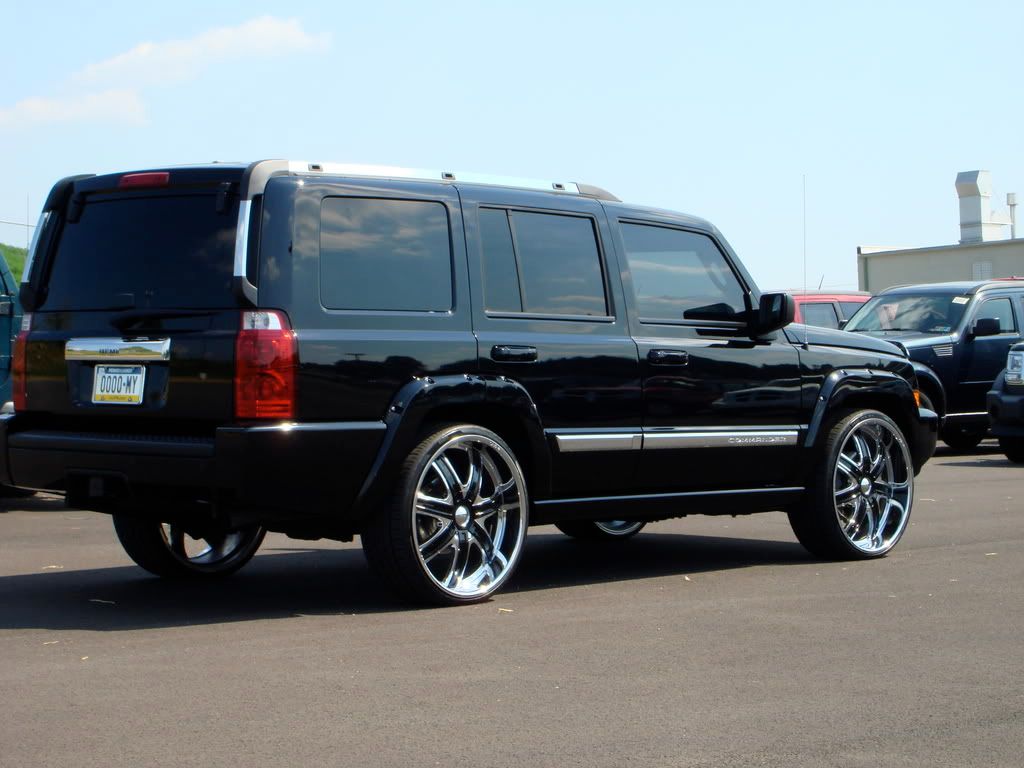 [/IMG]
[IMG]
[/IMG]
CT- i can give you a package deal on wheels/tires and springs. I'll even have the wheels color matched for you.
Join Date: Jan 2006
Posts: 157
whats the part number on the exhaust. I st it dual or single?
the exhaust is single, however unfortunately no one (that i know of) makes a dual exhaust for our commanders. Borla, magnaflow, and Gibson are the only exhaust systems made for our XK's. I was in great debate as to which one i wanted to go with, but borla and magnaflow only offer 2.5'' piping whereas gibson was a 3''. The sound and flow is great, not obnoxious like my old WJ. Here is the part number:5.7L Stainless 617401. Thanks!
Currently Active Users Viewing This Thread: 1

(0 members and 1 guests)