SOLD: Free to Good Home!
---
UPDATED!!
Hey XK kids,
I have some free goodies if they can go to a good home.
1st up.....the whole interior XK cloth seat set. I upgraded from the cloth seats to a leather kit 1 month into owning the xk. They are in perfect condition. I have the 65th anniversary edition so they have the emblem on the seats. You could put a JEEP emblem over the 65th if you want.
They are perfect if you have damaged seats or want a back up when your cloth seats get worn. They are an Olive color.
IMG]http://i306.photobucket.com/albums/nn250/ssalan/Mar08046.jpg[/IMG]
2nd up is the stock interior door panels of the XK. I upgraded my panels to the Limited style after about 2 months of owning my xk. Perfect condition. Again a perfect chance to replace worn scuffed panels after years of cruising and four wheeling fun!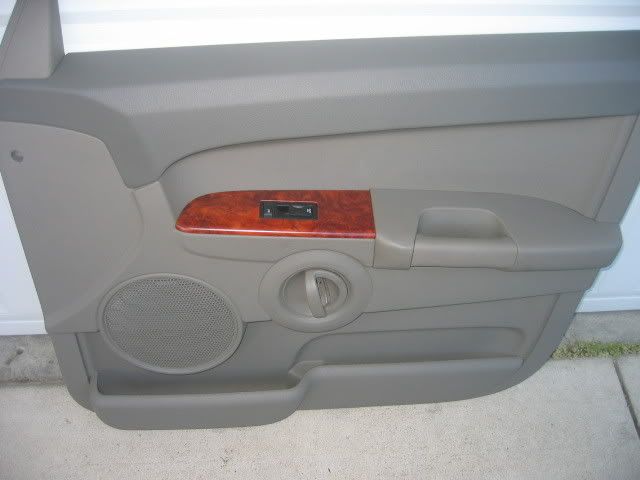 Behind door #3 is....a new car!
Just kidding...just clothes seats and door panels today....
UPDATED!!
I checked shipping and its about $25 to ship to the west coast near me and about $50 to go to the East coast for each box. They are 2 boxes for the door panels and the cloth seats are in one box . So I figure $38.37 to go to Kansas.
I just want to cover my cost. I am sorry I didn't break out the cost per box. I was rushing to post this and sell some other stuff on ebay this weekend.
The goal is to get this stuff out of my garage so I can get to my exercise equipment, dust it off, admire it, and then go back in the house.
Let me know.....
---
Last edited by JeepRig; 03-24-2008 at

01:07 PM

.
Lets try the seats again....little wrinkly because the were in a box
Quote:
Originally Posted by bjamrow
Still available?
which one are you looking for? The excited house wife took the new car but the cloth seats and door panels are still available.
One person did PM me tonight with a question on the cloth seats.
---
Last edited by JeepRig; 03-23-2008 at

01:14 AM

.
Sorry guys, just to update.

The interior door panels are in 2 boxes(2 doors in each) so they would be $25 to $50 each box to ship depending on location. This is the estimate I got from Fedex.

I took one box to get the quote and forgot to break it out in the initial thread.
I am sorry to say to the masses out there that the door panels and seats are gone.
My800 made me an offer I couldn't refure...he paid for shipping. I know I am a tough negoitiator......
Currently Active Users Viewing This Thread: 1

(0 members and 1 guests)