Junior Member
Join Date: Oct 2012
Posts: 12
3.7 intake pics inside
---
so i wanted a CAI but didnt want to spend alot so i bought this one off ebay for 100 bucks
http://www.ebay.com/itm/2006-2010-Je...0540b6&vxp=mtr
i didnt really care for the crome so i sanded it down and re painted it.
here are pics after it got repainted and installed. i got rid of the blue hose and put a black one on. let me know what ya think.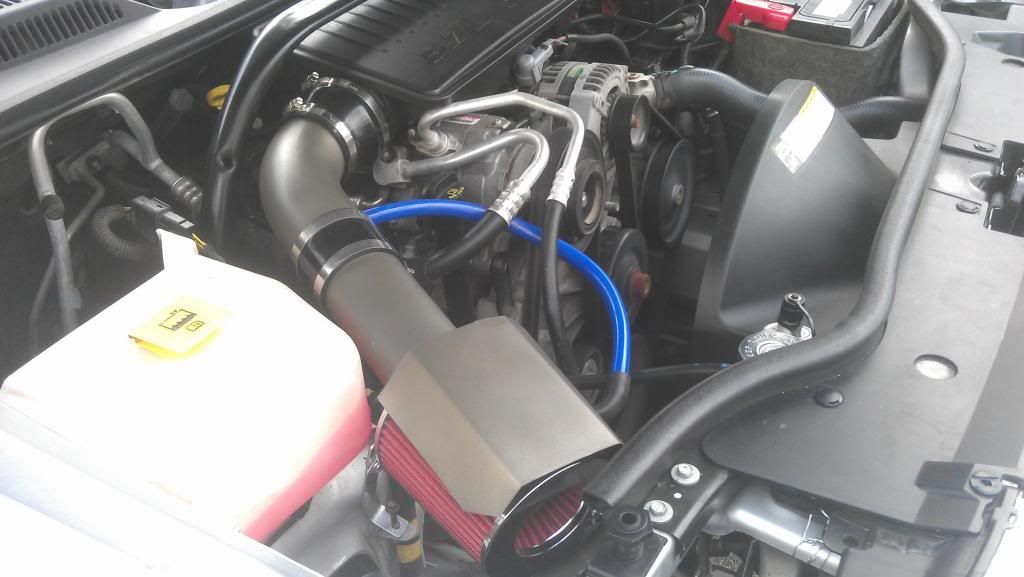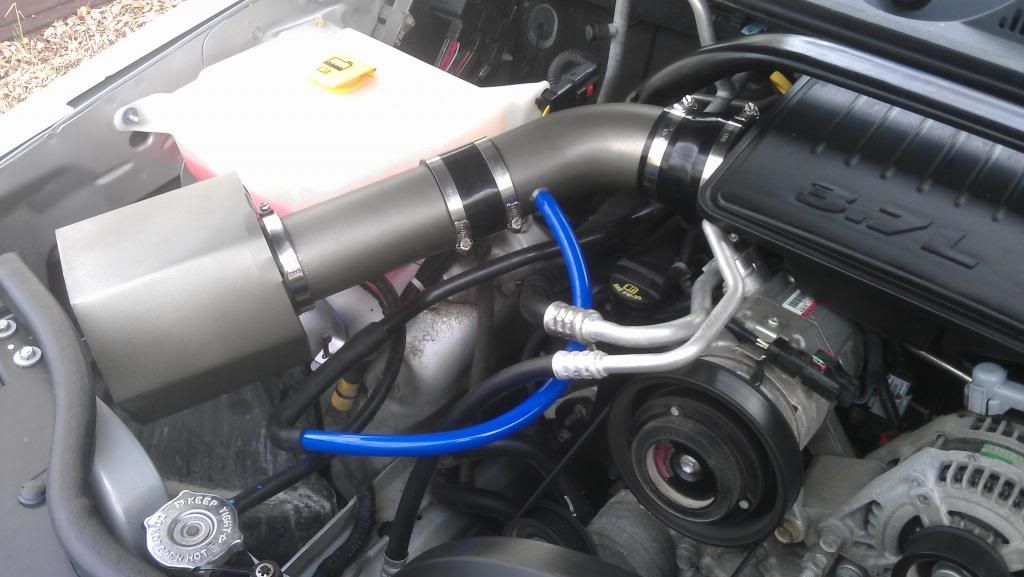 Junior Member
Join Date: Oct 2012
Posts: 12
No negative comments 'cause people like it. Looks damn near factory. Good job.
Sent from my iPhone using
AutoGuide.com Free App
Senior Member
Join Date: Feb 2011
Location: pittsburgh pa
Own a Commander?: Yes
Model year: 2006
Trim Package: Sport
Power-Train: 3.7L V-6
4WD
If 4WD - system: QT-I
Current Mileage: 125K
Posts: 544
Looks as good as any i've seen. I like the clean engine bay
Looks like mine
---

To view links or images in signatures your post count must be 10 or greater. You currently have 0 posts.

2006 3.7l Silver black and crome Sport W QT1
K&N cai. Aridium 1X plugs. 1.5" Spider Trax...
Tinted windows gone. Got ticketed for 137.50!! Full Synthetic motor oil and many more mods...
Junior Member
Join Date: Oct 2012
Posts: 12
I would try to avoid any deep water puddles. That cone filter is pretty exposed. Looks like a good clean install though. Did you feel/notice any performance gains with it?




---
2007 4.7 Liter XK | Front OME MD Springs w/Superlift Preload Spacer | Rear 4" Superlift Springs | Bilstein 5125 Rear Shocks | JBA UCA's | Rusty's Rear Adjustable Track Bar | Black Rock 997 Wheels | Fred Goeske 1/4 Inch Wheel Spacers | 305/70R17 Goodyear Wrangler MT/R w/Kevlar | Airflow Snorkel | Flowmaster 40 Series Muffler | Superchips Flashpaq | Mopar Skids | 4xGuard Belly Guard | American Rebel Rear Diff Cover | Rear Powertrax No-Slip | Front E-Locker | Rear Heat/AC Delete
Junior Member
Join Date: Oct 2012
Posts: 12
no gain really but it sounds better and i did notice the filter bein really exposed too so i put the bottom half of the oem filter box back on so its covered on the bottom now.
I was going to recommend that!




---
2007 4.7 Liter XK | Front OME MD Springs w/Superlift Preload Spacer | Rear 4" Superlift Springs | Bilstein 5125 Rear Shocks | JBA UCA's | Rusty's Rear Adjustable Track Bar | Black Rock 997 Wheels | Fred Goeske 1/4 Inch Wheel Spacers | 305/70R17 Goodyear Wrangler MT/R w/Kevlar | Airflow Snorkel | Flowmaster 40 Series Muffler | Superchips Flashpaq | Mopar Skids | 4xGuard Belly Guard | American Rebel Rear Diff Cover | Rear Powertrax No-Slip | Front E-Locker | Rear Heat/AC Delete
Currently Active Users Viewing This Thread: 1

(0 members and 1 guests)
Posting Rules

You may not post new threads

You may not post replies

You may not post attachments

You may not edit your posts

---

HTML code is Off

---