Junior Member
Join Date: Sep 2012
Posts: 2
New Commander Owner!
---
Hey everyone!
I just joined the forum and you have no idea how happy I am to be here. My first vehicle was a Dodge Ram and I sold it when I graduated high school because the high gas prices are not conducive to a college students budget driving a big truck. Then came mistake #1: I bought a Mitsubishi Eclipse...then a couple of years down the road when it was about to die came mistake #2: I bought a Pontiac Grand Prix. My parents have always driven Dodge vehicles, my brother and his wife both drive Jeeps. That has just always been our niche in the auto industry. I am very happy to be Driving a Jeep and vow to never drive another Mitsubishi or Pontiac again!
My name is Josh and I just graduated from college in December and got married in May so my wife and I had the joy of making our first "BIG" purchase as a married couple. I realize to some of you, buying a used Commander is not a "Big" purchase, but for a couple of people fresh out of college it is! Heck, when I was in college I thought Chick-fil-a was a big purchase! lol
We went to the lot with the intention of looking at a Jeep Grand Cherokee..but the size of the Commander was exactly what we wanted. It stole the show from every other used SUV in the lot.
We ended up with a 2007 Commander with 80k miles on it. The paperwork said that it is "Blue" but it really depends on how you look at it. Sometimes it looks Charcoal Grey...sometime dark blue. It is in really nice shape and has been taken care of. It looks like a brand new vehicle inside and out.
It does have the v6 ,but that is all that my wife would ever need. She just loves it. It feels like such a safe vehicle.
It says on the back that it is a 4x4, but there is no button to push, lever to pull or anything to turn the 4wd on. What is the deal with that?
I am going to put an aftermarket hitch receiver on it so that I can pull my little lawn mower trailer around when I need to. Does anyone have any recommendations?
I was looking at
this one
on ebay...but I really do not know what I am looking at when it comes to towing packages/receivers.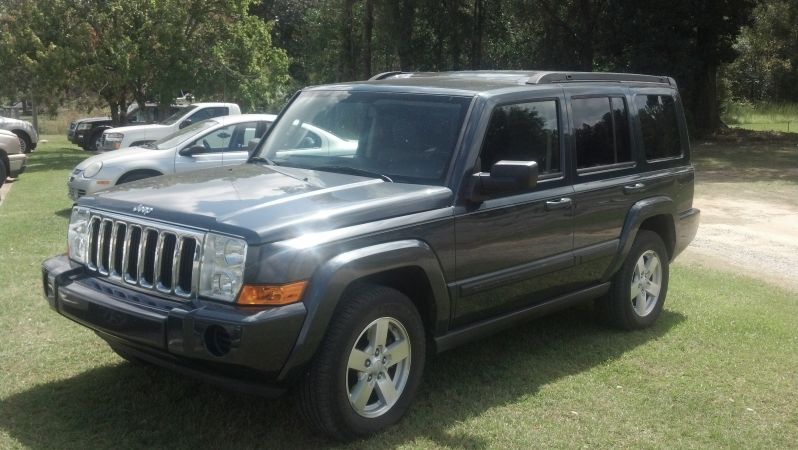 You have a V6 Commander so it's full time 4 wheel drive. Just get in it, turn the key and drive. You have a single speed transfer case so it doesn't have 4 low. As far as the trailer hitch, I would recommend just getting the oem hitch/wiring harness from the dealer. It is a very clean install and probably not that much more then getting a universal hitch and wiring harness. You normally have to bring it to the dealer after install anyways so that they can enable the tow setting or else you wont get power to the trailer you are towing.




---
2007 4.7 Liter XK | Front OME MD Springs w/Superlift Preload Spacer | Rear 4" Superlift Springs | Bilstein 5125 Rear Shocks | JBA UCA's | Rusty's Rear Adjustable Track Bar | Black Rock 997 Wheels | Fred Goeske 1/4 Inch Wheel Spacers | 305/70R17 Goodyear Wrangler MT/R w/Kevlar | Airflow Snorkel | Flowmaster 40 Series Muffler | Superchips Flashpaq | Mopar Skids | 4xGuard Belly Guard | American Rebel Rear Diff Cover | Rear Powertrax No-Slip | Front E-Locker | Rear Heat/AC Delete
Senior Member
Join Date: Jan 2011
Location: Rowlett, Texas
Own a Commander?: Yes
Model year: 2006
Trim Package: Limited
Power-Train: 5.7L V-8 Hemi
2WD
If 4WD - system: QD-II
Posts: 537
Welcome to the club. You and your family are going to love your Commander - good looking rig, too. This is an awesome forum and you'll learn tons.
---
2006 Limited, Light Khaki Metallic, Light Graystone/Dark Khaki Leather, HEMI, QDII, Rear DVD, REC Nav w/09 Database, woody side, EGR hood deflector, AEM Gun Metal Brute Force CAI, tilting rearview mirrors.
"I did not enter politics out of philanthropy but rather as an extension of my own annoyance at having inherited freedoms infringed by power-crazed idiots spouting gibberish". Nigel Farage MEP; Leader, UK Independence Party
---
Last edited by JeepJorge; 09-27-2012 at

01:53 PM

.
Senior Member
Join Date: Sep 2012
Location: Raleigh, NC
Own a Commander?: No
Model year: 2006
Trim Package: Limited
Power-Train: 4.7L V-8
4WD
If 4WD - system: QT-II
Posts: 185
We've been married for 15 years, and our used
06 Commander is still a major purchase for us.
We also went in on the intention of looking at a GC,
but once I saw the inside, and test drove a couple
of commanders I was sold.
Honey moon was cut short on the 8th day, see above
thread.
If you can still get a warranty, I would jump
on it. (0.02) I have just about every option, and will most
likely need it since it was built in 10/05. (from what I've
gathered around here)
---
2006 XK, 4.7, QT2, Limited, Loaded, Stock, the family truckster. (Sold)

1999 XJ, 4.0, AW4, 4x4, 3" OME lift, 31" Destination M/T's, Quick discos, SYE hack and tap. (sold)

2014 MK (Patriot) Stock, 4wd Freedom Drive 1, 2.4L, 6-Speed auto, the gas getter. (Sold)

2018 - Latitude Plus - 2.4 - AD1 - 8.4A Nav 3C

2019 - Trailhawk - V6 - 8.4 Nav 4C - Cold Package -
Lifetime Maxcare on Both!

When we do right, no one remembers. When we do wrong, no one forgets.
Currently Active Users Viewing This Thread: 1

(0 members and 1 guests)
Posting Rules

You may not post new threads

You may not post replies

You may not post attachments

You may not edit your posts

---

HTML code is Off

---