Junior Member
Join Date: Nov 2012
Posts: 1
Brakes - Lights outs both at same time
---
Hi,

I wasn't sure whether to post this in the electronics or not, it looked like mostly radio electronics so I posted here, forgive me if I am in the wrong forum.

But here is my problem. My girl has a 2006 Jeep Commander which I'm just not to familar with. I've always had a Chevy or Ford, ok I hope somebody will still help me lol. Anyway her break lights went out, both of them at the same time so I figured it wasn't the bulbs. But I did check the bulbs and both look fine.

I checked the fuse (10A) in the box under the hood, it was good. I checked another fuse under dash that an internet repair page said to check. It was good. I got my tester out and checked the brake light swith. I had 12 volts coming in on the red and gray wire. I couldn't get power on any of the other wires so I headed up and bought a brake light switch.

I installed it and had 12 volts to the switch and when pedal depressed I had 12 volts coming out of the switch on the wire next to the red and gray wire - I forget the color now but I think it had a red stripe.

Assuming I am reading the correct wires for power heading out to the break lights what would be my next move. I'm thinking to the shop but I have come this far I sure would like to fix it myself.

I have the internet page that guided me through the brake light switch installation but will not post because I am not sure that is allowed.

Any advise is greatly appreciated!

Thanks, Joe
Senior Member
Join Date: May 2012
Posts: 130
I had a very similar issue. First note, the ultimate fix in my case was the 15a fuse (not the 10a or whatever one you tested) so absolutely check that blue fuse!!!
Check this thread I had from a few months ago:
https://www.jeepcommander.com/forums/...p/t-18152.html
(Read my 8th post in the thread, thats where I start to get things accomplished...)
Its a long read, but should definitely provide some help. Please let us know how it works out for you!
Oh, this might help too: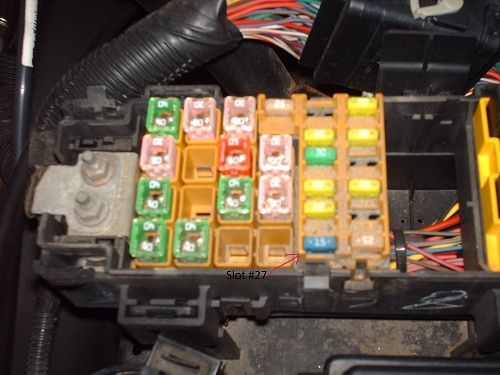 ---
Last edited by Dirty_Walter; 11-12-2012 at

06:29 PM

.
Currently Active Users Viewing This Thread: 1

(0 members and 1 guests)
Posting Rules

You may not post new threads

You may not post replies

You may not post attachments

You may not edit your posts

---

HTML code is Off

---