Junior Member
Join Date: Dec 2012
Posts: 2
Tail Lights don't work, blinkers/brakes do???
---
Hello,

So, I've been cringing whenever I drive these days because on my 2008 Jeep Commander as I'm driving along my tail lights on the driver's side are black. But when I use my directional or hit my brakes the appropriate bulbs light up.
I've asked my mechanic but he said it's a wiring thing and he's not comfortable hunting for the problem. (Needless to say, I'm now on the lookout for a new mechanic...)
It seems like something I should be able to fix, though.
Someone suggested it could be a grounding issue so I removed the screw attached to a white wire connected to the frame of the vehicle. It was pretty corroded so I was kind of excited as I sanded, thinking I've done it!
But nothing.

Just wondering if anyone out there might be able to help me figure this bad boy out... The frustration level is high and the money level is low so I hate to take it to somebody and have it be something simple and never know for sure.
Any help would be much appreciated!!!

Thanks...

Shane
Junior Member
Join Date: Dec 2012
Posts: 5
Same issue
---
I am having the exact same issue on my 2008 Commander. I just got done replacing all the light bulbs just to cancel that out. The blinkers, hazards, and brake lights work but not the running lights on the rear drivers side.
Senior Member
Join Date: May 2009
Location: Cleveland TN
Own a Commander?: Yes
Model year: 2006
Trim Package: Limited
Power-Train: 5.7L V-8 Hemi
4WD
If 4WD - system: QD-II
Current Mileage: 103,000
Posts: 623
The running lights are a seperate filliment/circuit in the tail lights - the brake and turn signals are a different circuit. My first try would be to change the problem bulb which has two lights in it (one for brake one for running). If that didn't fix it I'd look for a connector problem with the wire that goes to that bulb or the bulb socket. The wire on both sides for the running lights will be the same color, the brake/turn signals will have different colors in left and right side. Idealy you should put a volt meter on the bulb socket and check for 12V. Since the other side running lights work there is not a fuse problem (probably).
I had an Olds back in the 70's that had a fuse blow in the tail light circuit and it caused the interior lights to stay on all the time - had to disconnect the battery until I figured out the cause. Found it by checking ALL the fuses.
---
06 Commander Limited Hemi - QDII,
Past -89 Comanche, 98 Grand Cherokee (2WD), 2000 Cherokee, 05 Grand Cherokee Limited 4.7
Had to replace the brakes - they opened more gas stations in town
To view links or images in signatures your post count must be 10 or greater. You currently have 0 posts.

Junior Member
Join Date: Dec 2012
Posts: 5
Any luck?
---
I thought I had it figured out...I have a U-Haul after market trailer light adapter deal and I checked the inline fuse and it was blown... but after I replaced it nothing changed... back to square one. I'm tempted to just bring it to the dealership now.
Senior Member
Join Date: May 2012
Posts: 130
Dont know if you guys checked this fuse out. If not, definitely fixed some issues for me... Its a blue 15. Found the info and location in my drivers manual.
I had a few issues going on. My dashboard was displaying "service 4wd", the BAS light and traction control symbol were intermittently coming on as well as discovering that I had no brake lights at all... I went through a lot. Had it down at the dealer a few times, they flashed the computer, all kinds of crap... I ended up taking it upon myself to replace this fuse that is related to the brake light system and... POOF! All issues fixed! For PENNIES!
good luck.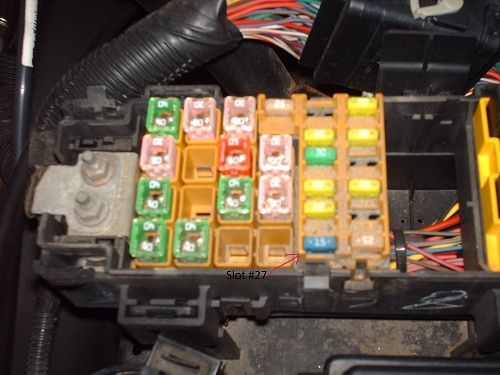 Junior Member
Join Date: Dec 2012
Posts: 5
Thanks Walter. I will check that out tonight.
Junior Member
Join Date: Dec 2012
Posts: 2
Fixed It!
---
Thanks for all the ideas...
I shouldn't have been so quick to discard the idea that it might have been a fuse. That's exactly what it was!
In the fuse box closest to the front of the vehicle, there is a row of 3 red, 10 amp fuses. The fuse closest to the windshield was, indeed, blown.
Even better, there were two spares enclosed in a yellow plastic wrapping right in front of the problem fuse row.
Mechanics couldn't figure it out which led me to believe that it couldn't have been something simple. "A wiring issue", they said.
Fuse.
Fixed.
Free.
Gotta love it.
Thanks again, for the brainstorming!
Senior Member
Join Date: May 2012
Posts: 130
Congrats. Feels good to get it fixed, right?! Even better to do it yourself for less than a buck! Check those fuses boys!

Why cant mechanics look at the simple stuff first? Screw em!
Junior Member
Join Date: Dec 2012
Posts: 5
Not so lucky for me.
---
I've checked every fuse I could think of and I am still not having any luck. I just bought the Commander a couple weeks ago so I called the dealership I bought it from and they are going to take a look at it today since it is still under their 30 day warranty.
Senior Member
Join Date: May 2012
Posts: 130
Have someone run some codes on the computer and see if any come up. I think some autozones do it for free... I ended up getting a code that stated something like "Brake switch half stuck". Prior to replacing my fuses, I went to the dealership and got the brake switch and installed it my self. It was like $14 and pretty easy to install (right behind the actual brake peddle)...
Anyways, in my case it was in fact the fuse but in your case could be the brake switch... Who knows. The brake switch does control the lights though...
Here is a cool trick if you were not already aware for trying to pull codes yourself... Give it a shot, but if you dont get any codes, it doesnt mean that there are not some that a diagnostic machine couldnt pick up. So do that too if need be...
http://www.youtube.com/watch?v=0KLX9qi0llI
Currently Active Users Viewing This Thread: 1

(0 members and 1 guests)
Posting Rules

You may not post new threads

You may not post replies

You may not post attachments

You may not edit your posts

---

HTML code is Off

---