Join Date: Jan 2007
Posts: 1,562
We need a pic
---
Somone needs to take their Commander out somewhere Christmasy and take a pic that can be on the welcome page. Thanksgiving is over...
It's rainy out today. Not looking much like Christmas. We're supposed to get hit after today though
Senior Member
Join Date: Nov 2006
Own a Commander?: No
Model year: 2006
Trim Package: Sport
2WD
If 4WD - system: QT-I
Posts: 1,504
Not exactly what you're lookin for but it's a start.
Just needs snow!
---
RIP - Silver '06 Limited; 5.7 Hemi; 2" TerraFlex Lift; 255/70R17 Bridgestone Dueler REVOS, Horizontal Inclinometer, Signal Frog Antenna Ball, Surco Safari 50"x50" Roof Rack, GetLost4x4 bumper, Bulldog 9k Winch, GetLost4x4 Rock Rails - (should have added a snorkel)
Join Date: Nov 2007
Posts: 3,374
its snowing up here. but by the time i get home from work its usually almost dark.
We might get snow next week. If it does, I will take lots of picture of me wheelin my XK in the snow.
Am off out to find a snow covered mountain, I may be some time!
Here are a few pics that I took last April during a snowstorm that dumped 14 inches of snow in Northern Minnesota. (The Commander went through it like it was nothing.) I may have posted these before, but I can't remember. I'm not sure if there is enough Christmas in them or not.
The First one is on the North Shore in Minnesota
The Second is in Duluth, Minnesota with the Ariel Lift bridge in the background.
Crop the guard rail and sign out of the top one and it is PERFECT!
Member
Join Date: Sep 2007
Posts: 32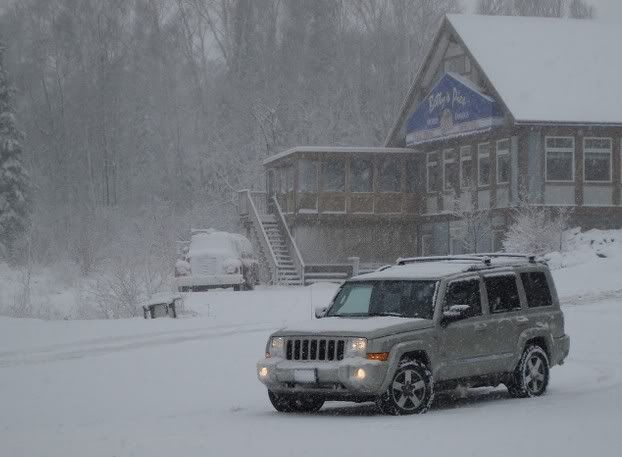 Like this?
Currently Active Users Viewing This Thread: 1

(0 members and 1 guests)