Join Date: Nov 2007
Posts: 3,374
Found my future tires!!!
---
I was looking through my Peterson's magazine last night. when i saw these tires.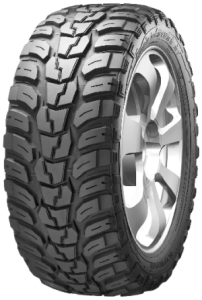 they come in a 265/70/17, 31.9" tall. and they come in either a load range of C or E.
I'll Be getting the C load range.
I've found these for $165.
What are your thoughts on these.
I used BFG KM Mud terrains before. and TRXuS Mud terrains before. i'm hoping these will be just as good.
i have a set of Kuhmos on my 300ZX and they are very good tires. they have lasted through 2 cars and 2 years of high mileage.
AND! THEY LOOK AWESOME!!!!
Join Date: Nov 2007
Posts: 3,374
---
Last edited by UberCommander; 01-11-2008 at

12:44 PM

.
Join Date: Nov 2007
Posts: 3,374
Join Date: Nov 2007
Posts: 24
Those look pretty sweet. How much rub do you guys think that size tire will have with 1.5" spacers and a rocky road lift on stock 17 chrome clad wheels?
I can picture those flinging mud like crazy!

Are you concerned about road noise with those?
Join Date: Nov 2007
Posts: 3,374
i don't really care about road noise.
i have two kids who talk all the time while we drive. maybe it'll make it so we can't hear them yak.
after you have had swapper type tires, everything else is much quieter.
Tire Rack did not have them in 265/70/17. Where did you find them?
Join Date: Nov 2007
Posts: 3,374
i can get a friend of mine who owns a tire shop to order them for me.

i couldn't find them on discount tire.com either.
I think it's a good looking tire. I like the thread pattern. If you don't care about the noise, I say go for it.
Currently Active Users Viewing This Thread: 1

(0 members and 1 guests)