Junior Member
Join Date: Nov 2014
Location: Austin, TX
Posts: 20
Locked Up's XK
---
(I was not sure where to put this so if it needs to be moved, please do so)
I wanted to make a bit more of an introduction about myself, my XK and provide myself a space to keep track of the things I find that I want and the things I do to my XK.
I picked up my 2006 XK on 11/10/14 with 106K on the ticker. I feel like I got a good deal on it but it did need a few repairs out of the gate and the paint is not perfect... but no where near as bad as I have seen.
It is my 7th Jeep and my first XK. Past jeep included XJs, TJs and a YJ that all were pretty highly modified (things like Atlas cases, axle swaps, ARB lockers, cages, stretches, etc).
I'm a 38yo male and I own my own business, designing and manufacturing parts for radio control cars. It's the best job I ever could have imagined and I love it. I've been into 4x4s since I was 14 and my first vehicle was a 76 K5 Blazer that I modded the heck out of. I've been to several different off road parks around the country and done various types of wheeling (rocks, mud, beach, trails) but this Jeep will be more of a road warrior than anything else.
My plan for the XK is to keep it reasonable but modified. I will admit as I look through some of the photos of lifted and highly modified XKs ..... I love a lot of what I see but this is my daily driver. So gas mileage plays a factor in decisions.
Here it is as it sits in my driveway:
A short "want list":
2" Lift
AT tires
Fog lights (in factory bumper)
Lit vanity mirrors (girlfriends request)
Refinish beat up flares
More power
To date I have replaced:
Oil Pressure sending unit (11/16)
Front Pads & Rotors (11/24)
Exhaust manifold bolts (11/25)
---
Last edited by Locked up; 11-26-2014 at

03:48 PM

.
with 106k miles, a 2" full suspension Old Man Emu lift would be a good idea if you haven't replaced your shocks and struts in a while. It's a little pricey, but worth the buy.

For tires, if your looking for some agressive AT tires, the Goodyear duratrac is a really good option. For something more subtle, the Goodyear silent armors are a good choice as well.
Junior Member
Join Date: Nov 2014
Location: Austin, TX
Posts: 20
That is probably the lift I am most leaning towards but somewhat torn on the springs to select.

At the moment I am thinking of the medium duty ... I have no hemi, no crd and no armor ... but may have some armor in the future. I just wish I could hear from someone that installed the medium duty springs and can compare them to the stock springs.


While I am in there with the springs and struts, I am thinking ... upper arms from JBA, lower ball joints and CA bushings, sway bar bushings, new isolators all around and someone mentioned upper strut cups or something....

If anyone else has any "replace while you are in there" suggestions I'm all ears.
Senior Member
Join Date: Apr 2014
Location: CA
Own a Commander?: Yes
Model year: 2010
Trim Package: Sport
Power-Train: 3.7L V-6
2WD
If 4WD - system: QT-I
Current Mileage: 140000
Posts: 1,585
Welcome! Your wants/needs from your vehicle are not too different from my own.
Here is where I am @:
255/70r18. I do rub on the pinchweld, that mod's coming next.
Wheels have 5.39" backspacing. No spacers
Bilstein 5100s @1.5" 2 additional spring isolators in rear (~.5")
Matching spare fully inflated
I removed the cross bars, so max height is actually less than before (those things are like 4")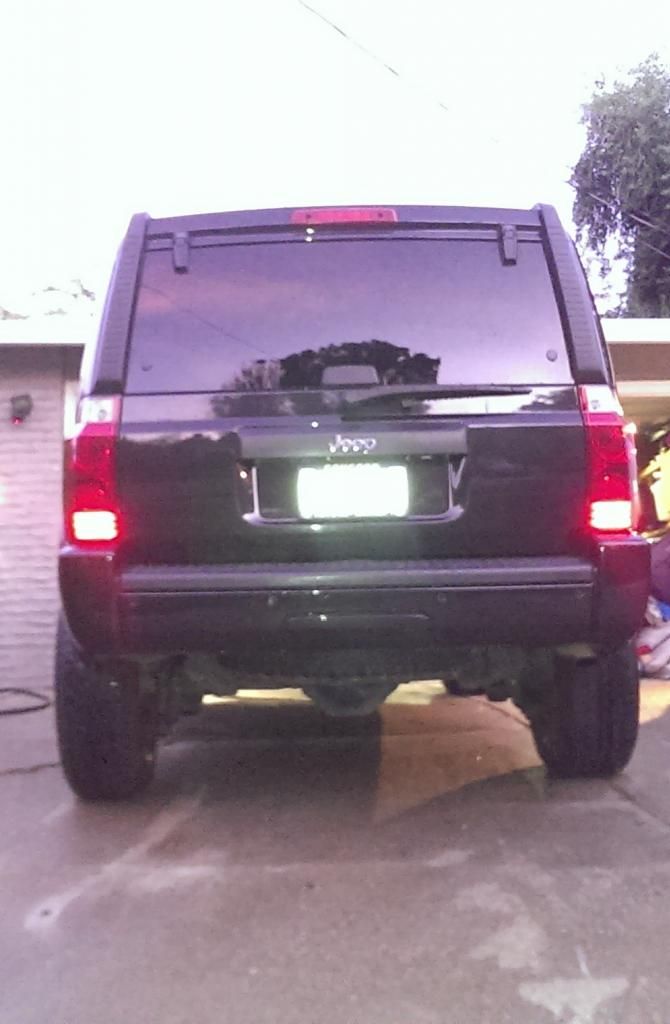 Other notable mods include the pinchweld
http://www.theultimatejeep.com/showt...ot-How-To-quot
LED Interior swap ( i purchased a set on ebay)
https://www.jeepcommander.com/forums/...ead.php?t=7201
HIR Headlight bulb swap
http://store.candlepower.com/hirlighting.html
Hypertech Max power tune
Picked this up used on ebay under the old p/n 52001 for ~$55. Improved mpg and power.
---
Last edited by luckyse7ens; 11-26-2014 at

07:47 PM

.
Currently Active Users Viewing This Thread: 1

(0 members and 1 guests)