Join Date: Jul 2008
Posts: 6
Packing luggage for a trip
---
I have an 07 Commander, and all it has on top is the molded bars with the 2 holes on each end of each one. I assume these are to attach an actual roof rack. I have no idea. I am clueless about it. Me and my family are going on a road trip, and need to pack luggage or at least a sea bag up top, of course no room inside the truck with 7 passengers. can anyone help me out. Can I strap luggage with the existing bars that are there or do I have to buy and install the roof rack bars. Any feed back would be helpful.
Join Date: Jan 2006
Posts: 401
The side rails are just tracks for attaching the crossbars, made to look like rails from the side. You can attached a roof bag to the existing holes, but anything else and you might risk damaging the roof. I bought a waterproof Thule roof bag last year on Amazon and use that when I travel - it works very well and has loads of packing space. I think it was about $100. There are some roof racks that will attach directly to the tracks on your roof, but for most racks you need either the stock or aftermarket crossbars to bear the load.

Good luck!
Senior Member
Join Date: Sep 2008
Location: West Palm Beach, Florida
Posts: 329
Chrysler has the crossbars for your Commander. Sometimes some of our members put them up for sale on our site...check it out.
---
2007 Jeep Commander 4X4, 4.7, Steel Blue
2003 Ford Thunderbird, White, Black Top w/ Port Holes
Junior Member
Join Date: Feb 2009
Location: lakeland, fl
Posts: 9
i've used a roof bag as well. i adjusted the crossbars so the bag you sit on the roof to stop it moving around. i wasn't that confident in the straps that came with the bag so i also used a couple of ratchet straps across the top once it was loaded. it worked fine and i really didn't damage the paintwork. just make sure it is not likely to slide around.
this is one i have
http://www.cargogear.com/OneItemInfo...partnum=ROPLAT
and it seems to be on sale right now. has a padded "floor", i also make sure i clean the roof and bottom of the bag before loading, dust and grit will scratch the paint
---
Last edited by michlong; 06-18-2009 at

08:17 AM

.
Senior Member
Join Date: Dec 2008
Location: Orillia, Ontario, Canada
Own a Commander?: No
Model year: 2006
Trim Package: Sport
2WD
If 4WD - system: QT-I
Posts: 1,352
Quote:
(It) .. has a padded "floor", i also make sure i clean the roof and bottom of the bag before loading, dust and grit will scratch the paint
I'd be very leery of putting the bag directly on the roof itelf .. not because of scratching but just the chance of damage ... the bag is pretty big it could get heavy.
Actualy I was just looking for info in the owner's manual and it back tracks on this issue..
To prevent damage to the roof of your vehicle, DO NOT
carry any loads on the roof rack without cross rails in-
stalled. The load should be secured and placed on top of the
cross rails, not directly on the roof. If it is necessary to place
the load on the roof, place a blanket or some other protec-
tion between the load and the roof surface.
So I guess it is OK as long as it's not really heavy ... by the way thanks for the tip I never heard of a soft side waterproof bag like that ... I'm definatley going to look into getting one
Moderator
Join Date: Mar 2007
Location: Lake Havasu City, Arizona
Own a Commander?: Yes
Model year: 2006
Trim Package: Sport
4WD
If 4WD - system: QD-II
Current Mileage: HueyPilotVN
Posts: 2,248
I am sure that you know about the roof pods also. They come in several sizes. They are probably more than you want to spend for just occasional use. They are aerodynamic and do not cause much if any wind noise. They do require cross bars to secure them to the roof. One feature that I like is that they have locks on the pod and on the cross bars. I leave mine on all the time and store winter or cold weather survival gear, (coats, blankets,bedding, pillow), mostly light stuff that does not effect the center of gravity of the Commander. I have never had to use the contents, but on a trail on the backside of nowhere, it is nice to have. I also carry an inflatable bed and lots of survival gear in my third row storage compartment.
Here are a few pictures, (if you do not have pictures it does not exist)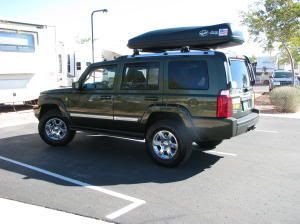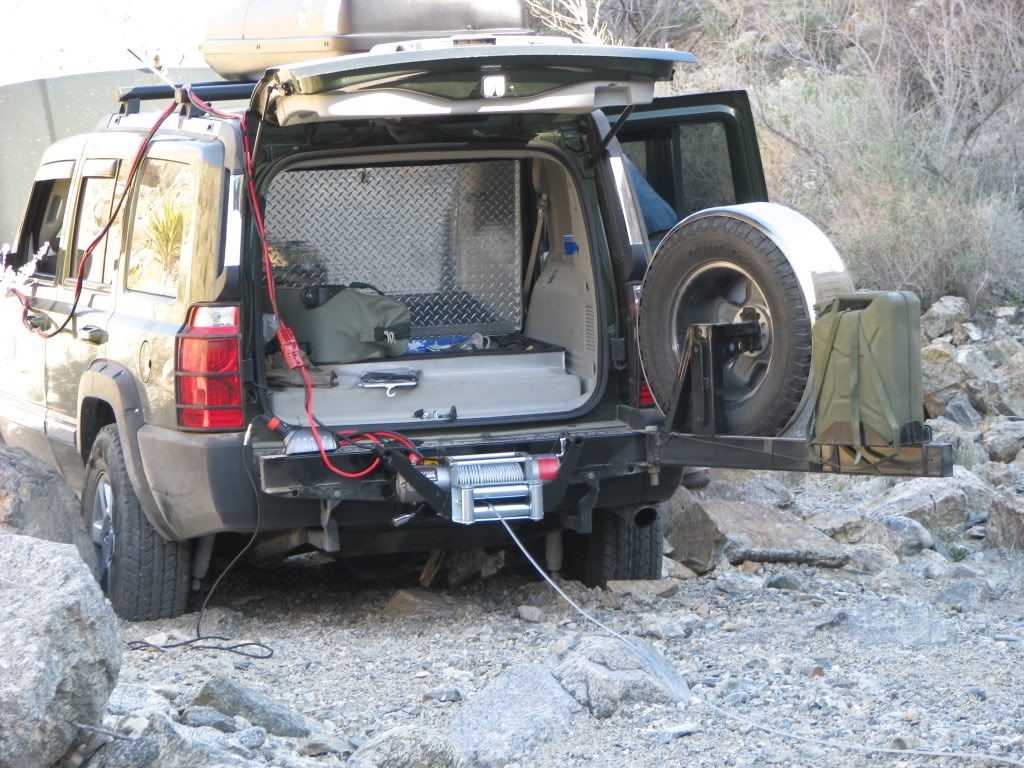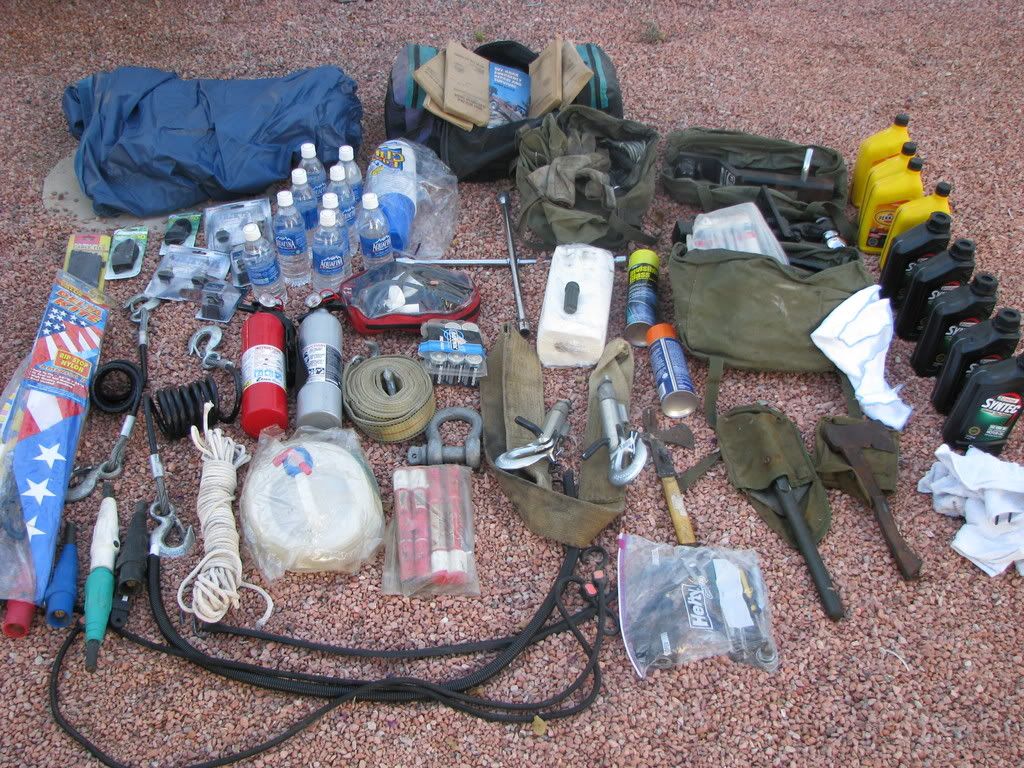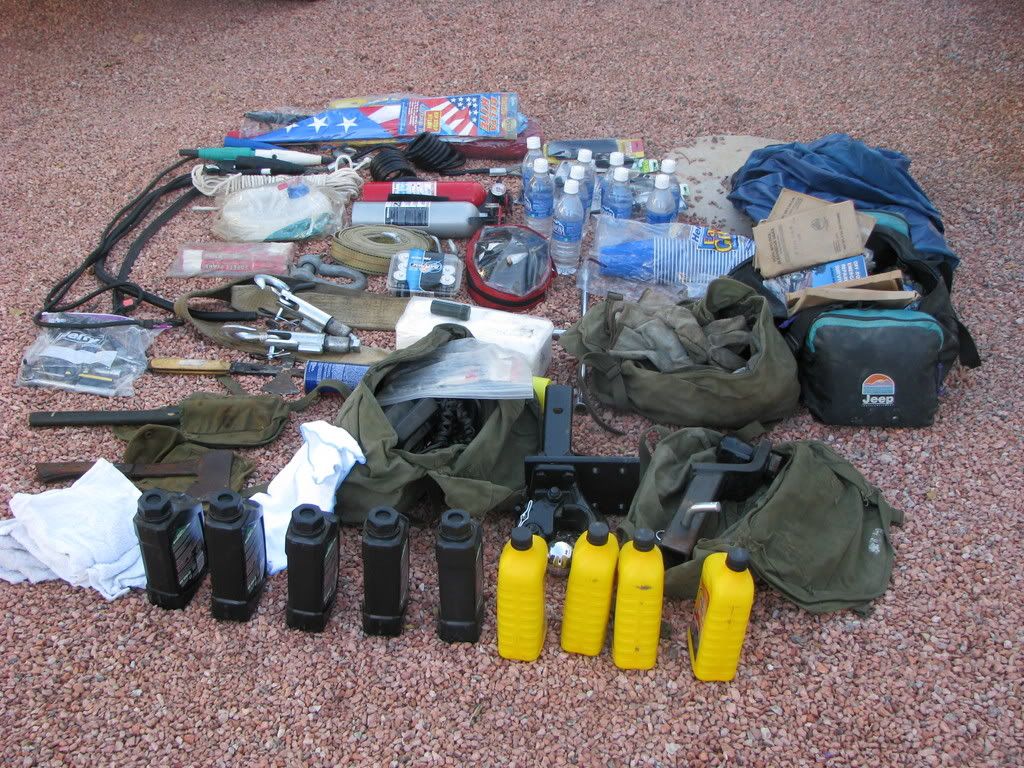 ---
2007 Jeep Green Limited 4.7 Flex Fuel, RR 2.5" 4 inch Superlift coils on rear, 1.5" Spacers, Bridgestone 265/70/17, K&N CAI, Flowmaster, Diamond Plate Locking Trunk, Blue Ox Baseplate w/D-rings, "Get Lost 4X4" Front Bumper, T-Max 9000 winch, "Get Lost rear tire carrier, 30 gal second gas tank.
Second 2007 Jeep Green Limited Leather HEMI QDII VES Uconnect Flowmaster OEM Skids Tow Package

Maybe the two will meet up soon edit: they did , I now have 2,now gave 1 away...and got it back again.
Join Date: Jul 2008
Posts: 6
Thanks guys that was all helpful information. I think I am going to try a padded bag, and hopefully we can strap it well enough not to slide around. The only thing that will be in it is clothes and shoes. No other equipment. 5 kids 2 adults. The response was awesome. thanks again.
Where are you at? I have some crossbars, they are just a pain to ship.
---
RIP - Silver '06 Limited; 5.7 Hemi; 2" TerraFlex Lift; 255/70R17 Bridgestone Dueler REVOS, Horizontal Inclinometer, Signal Frog Antenna Ball, Surco Safari 50"x50" Roof Rack, GetLost4x4 bumper, Bulldog 9k Winch, GetLost4x4 Rock Rails - (should have added a snorkel)
Join Date: Jul 2008
Posts: 6
Senior Member
Join Date: Dec 2007
Location: Saudi Arabia - Riyadh
Own a Commander?: Yes
Model year: 2007
Trim Package: Limited
Power-Train: 5.7L V-8 Hemi
4WD
If 4WD - system: QD-II
Current Mileage: 150000
Posts: 2,195
---
Second Jeep Commander, Current
2007 XH (International model), Green Metallic, Ltd, 5.7L HEMI, Quadra-Drive II
Spidertax 1.5" wheel spacer, K&N replacement filter
OME 2" Lift kit


First Jeep Commander,
2007 XH (International model), Light Graystone Pearl, Sport , 4.7L Quadra-Trac II.
To view links or images in signatures your post count must be 10 or greater. You currently have 0 posts.
Currently Active Users Viewing This Thread: 1

(0 members and 1 guests)
Posting Rules

You may not post new threads

You may not post replies

You may not post attachments

You may not edit your posts

---

HTML code is Off

---