Join Date: Feb 2009
Posts: 48
Firestone "Coil-Rite" Air Bag Helper Springs
---
Has any one used the Firestone "Coil-Rite" Air Bag Helper Springs? When I hook up my 28' trailer the back of the Jeep sags about 2" even with the load levelers. I used to only cinch it up with 2 links hanging and now I get the sag even with 4 links hanging. I can't go any more without the bars hitting the trailer tongue.
Mine sags a little too. Do you have a drop style shank? (Nothing personal!) The XK sits pretty high even at stock height so that compounds the issue.
I am thinking about going with heavier springs like Getlost4x4 did. I would be interested in what people think of those air bags though.
JJ
Join Date: Apr 2009
Posts: 1
You need to look at your tounge weight. What is the t weight on you trailer?
Moderator
Join Date: Mar 2007
Location: Lake Havasu City, Arizona
Own a Commander?: Yes
Model year: 2006
Trim Package: Sport
4WD
If 4WD - system: QD-II
Current Mileage: HueyPilotVN
Posts: 2,248
I am surprised that is drops that much. I tow a trailer with a Mustang on it and it does not drop much at all. It is easy to install the air bags that fit inside of the coil springs. Sometimes you can fold them when deflated and insert them between the coils and position them and inflate. I have used them on the front coil springs of some of my older motor homes. They usually work fine to raise the front or prevent compression of the springs. They sometime leak at the air lines after awhille. I would argee with Pedro that you might want to check your tounge weight of your trailer. Maybe shift some of the cargo or fill a rear water tank or empty a front one.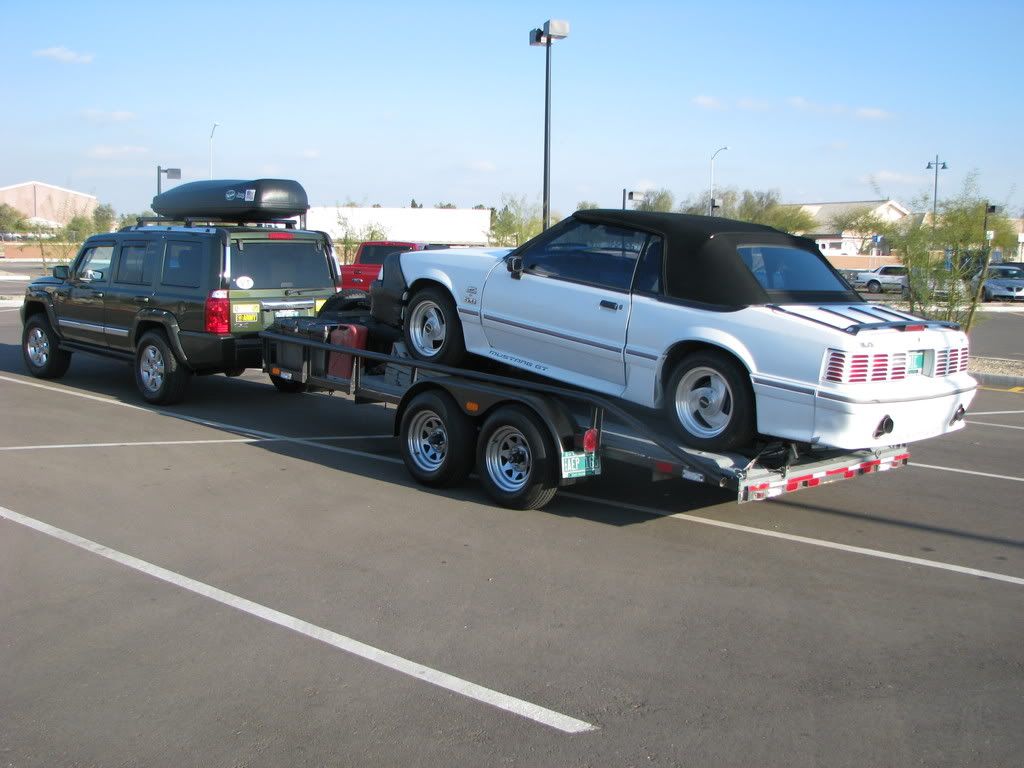 ---
2007 Jeep Green Limited 4.7 Flex Fuel, RR 2.5" 4 inch Superlift coils on rear, 1.5" Spacers, Bridgestone 265/70/17, K&N CAI, Flowmaster, Diamond Plate Locking Trunk, Blue Ox Baseplate w/D-rings, "Get Lost 4X4" Front Bumper, T-Max 9000 winch, "Get Lost rear tire carrier, 30 gal second gas tank.
Second 2007 Jeep Green Limited Leather HEMI QDII VES Uconnect Flowmaster OEM Skids Tow Package

Maybe the two will meet up soon edit: they did , I now have 2,now gave 1 away...and got it back again.
---
Last edited by HueyPilotVN; 04-18-2009 at

04:11 PM

.
Join Date: Feb 2009
Posts: 48
I have the class 4 style hitch with the load levelers. They are rated for between 750 and 1,000 lbs. I did have to drop the ball to the lowest position to get the trailer level. I was told the trailer has about 500 lbs of tongue weight when I bought it. I think based on the cushy ride the progressive rate springs are a little too soft for this kind of load. I am hoping there is some one out there that has tried these or some other like product.
Join Date: Feb 2009
Posts: 48
Well I decided on the Air Lift kit instead of the Firestone one. Better guarantee. It went in pretty easy except for drilling the holes in the lower spring mounts. That was a bear! Now all I need is to find a lead for one of the instrument lights to light the air pressure gauge.
Currently Active Users Viewing This Thread: 1

(0 members and 1 guests)