Phenomenom…
---
So today I went for a drive in NJ down by Six Flags, and took a drive in the Safary there, it was nice, after that, I was just going to get back home, on my way to the highway I see this sign at the begening of a small street… "PAVIMENT ENDS" and after that one, there was another, a "25 miles an hour" sign, I was confused, there was no asfalt on the road, it was that yellow/brown powder staf that I've seen on some pics here on the forum, I thinnk you call it "DIRT ROAD" ! ! !
It was about 2 miles and a half, not that long, but it was good to finaly get my XK off the asfalt, I did a round trip down the road, I was the only one there, I could not get too crazy, I don't have a winch and it would have been a pain in the butt to get a town truck to go out there and get me out. If it was not because of the wife wanting to get back home, I would probably still there
. Here are a couple off pics I took there…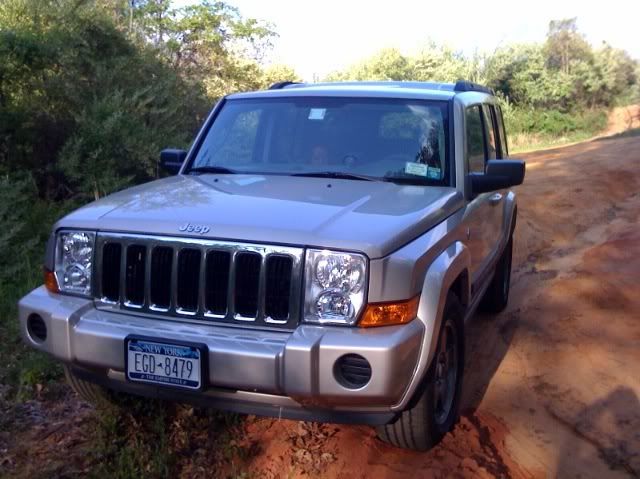 Nice pics. Always good to be outdoors. It still looks too clean though!!!
---
2006 Silver Jeep Commander Limited 4X4 - 5.7L Hemi, Quadra Drive II, Navigation System, Chrome Fuel Door, Sunroof, Rusty's 2" Lift Kit, Moto Metal M0950 Rims, Goodyear Silent Armor 255/70/17, Front Skid Plate, 4XGuard Belly Skid Plate, RR Supersliders, Chrome Front Tow Hooks, AEM Brute Force Intake, and WeatherTech Floorliners. See Pics
To view links or images in signatures your post count must be 10 or greater. You currently have 0 posts.
Semper Fi
Ah dirt, my XK loves it.
---
RIP - Silver '06 Limited; 5.7 Hemi; 2" TerraFlex Lift; 255/70R17 Bridgestone Dueler REVOS, Horizontal Inclinometer, Signal Frog Antenna Ball, Surco Safari 50"x50" Roof Rack, GetLost4x4 bumper, Bulldog 9k Winch, GetLost4x4 Rock Rails - (should have added a snorkel)
Join Date: Nov 2007
Posts: 3,374
don't do that too much. you'll get a sickness. i have it, and its not going away. its spreading through the family!!!!
Join Date: Nov 2007
Posts: 3,374
i love the yankees as well. nice sticker. everyone around here hates the yankees. i've been a fan since don mattingly played. its funny, they never won anything until after he retired.
Member
Join Date: Apr 2008
Posts: 54
4.7 is right, it is a sickness or maybe just an addiction, but either way it can consume you if you let it. Fortunately this is a good addiction at least as far as I am concerned. And also like 4.7, Go Yanks!
---
06' Commander w/ Hemi, AEM Brute CAI, Superlift 4" lift, BFG All Terrain (245/75/17), aftermarket 17" wheels, Tactical Armor front and rear bumper, Steel armadillo rock sliders.

91 Grand Wagoneer - SOA, resprung leaf springs plus add a leaf, 33" tires, cross over stearing, 4.56 gears, high flow exhaust, rebuilt 360 .030 over plus cam, Future mods: ARB Air lockers (front & rear) Heavy Duty Bumpers (front & rear), 12,000 lb winch, fender cutting & flares to fit 35" tires...
romeo, that is the assumpink wildlife refuge i was telling you about a few months ago. I live only a few miles from there. be careful as rangers do patrol and are not to fond of people going nuts on the trail, also as you saw some private property involved as well. any time you plan on going back let me know, pm or email, i'll try and catch up. there is a nice section of with good mud and water towards the end, it gets deep, burried my ram with lift, hemi, and 33 mt's up to the floor boards, what a mess, but what fun, jd
---
~~~~~~
><()*>
~~~~~~
08 Commander 4.7 sport u package
05 GC laredo 4.7 x package
03 Ram QC 5.7 33" toyo M/T on stock 20's
Join Date: Oct 2005
Posts: 1,397
Where did you find that Yankees decal? I've been looking for one that size, but I can only find the smaller ones. Is it die cut, or does it have clear vinyl around it?
Senior Member
Join Date: Sep 2007
Location: mid ohio
Posts: 5,612
Good pics romeo! Glad to see someone off road. How was the Safari?
---

To view links or images in signatures your post count must be 10 or greater. You currently have 0 posts.

Benjamin Davis Pirtle
1990-2015
Currently Active Users Viewing This Thread: 1

(0 members and 1 guests)
Posting Rules

You may not post new threads

You may not post replies

You may not post attachments

You may not edit your posts

---

HTML code is Off

---