Saturday in the Rockies
---
Took the boys out to Rampart Range and Mt. Herman roads today: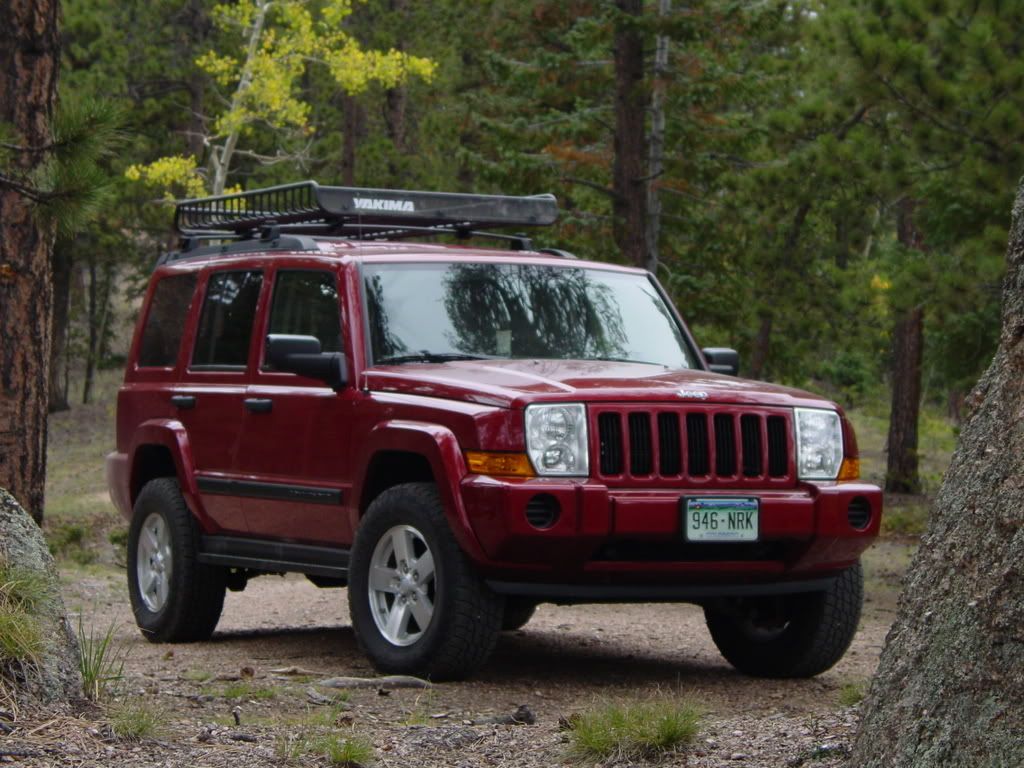 Holding up a rock:
Hey look - a fullsize spare under there!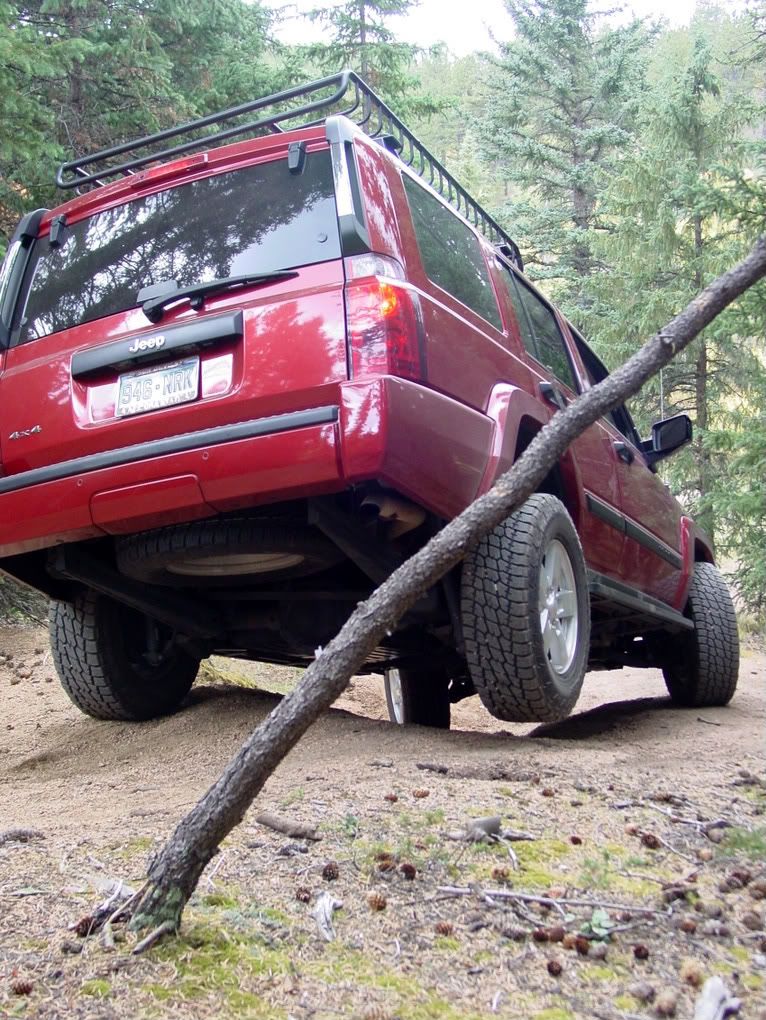 And a few more...the angles seem a lot steeper when you're driving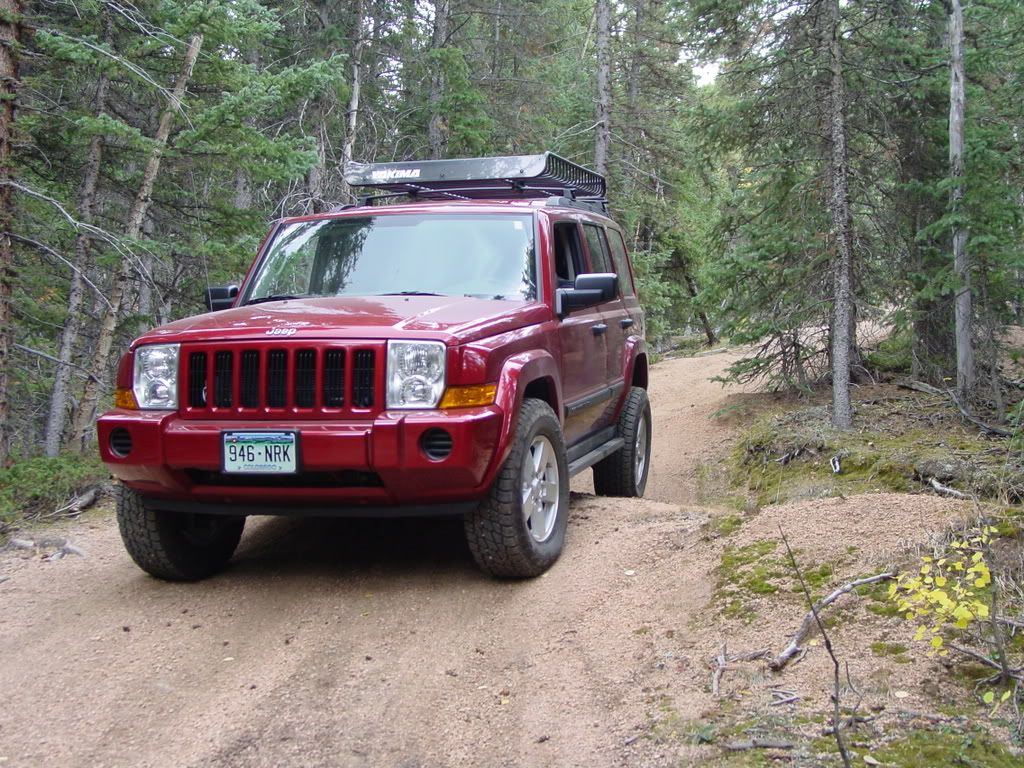 the boys:
the view:
and one more of the Jeep:
What a beautiful area, nice looking family too.




Moderator
Join Date: Mar 2007
Location: Lake Havasu City, Arizona
Own a Commander?: Yes
Model year: 2006
Trim Package: Sport
4WD
If 4WD - system: QD-II
Current Mileage: HueyPilotVN
Posts: 2,248
Good looking Jeep, You have done a lot to it since I saw you. I like the side guards..lol
It is nice country up there, glad you can take your family out and have fun. I can almost smell the pine trees in the pictures.
---
2007 Jeep Green Limited 4.7 Flex Fuel, RR 2.5" 4 inch Superlift coils on rear, 1.5" Spacers, Bridgestone 265/70/17, K&N CAI, Flowmaster, Diamond Plate Locking Trunk, Blue Ox Baseplate w/D-rings, "Get Lost 4X4" Front Bumper, T-Max 9000 winch, "Get Lost rear tire carrier, 30 gal second gas tank.
Second 2007 Jeep Green Limited Leather HEMI QDII VES Uconnect Flowmaster OEM Skids Tow Package

Maybe the two will meet up soon edit: they did , I now have 2,now gave 1 away...and got it back again.
Wow, looks like you had a good time up there today. Your truck also looks like mine, same color & everything. Where are you out here in CO?
---
2006 XK Sport, 4.7l, QTII- many mods
----------------------------------------------------
'An armed society is a polite society. Manners are good when one may have to back up his acts with his life."- Robert A. Heinlein

"Men sleep peacefully in their beds at night because rough men stand ready to do violence on their behalf."- George Orwell


To view links or images in signatures your post count must be 10 or greater. You currently have 0 posts.

RW - I'm just down the road from you in the Springs, drive through Castle Rock quite a bit as my brother-in-law lives in Parker.

Huey - the lift and tires went on after we saw you last, and I added a new scratch to the side rails today!
Ahh how I miss the Rockies...
---
RIP - Silver '06 Limited; 5.7 Hemi; 2" TerraFlex Lift; 255/70R17 Bridgestone Dueler REVOS, Horizontal Inclinometer, Signal Frog Antenna Ball, Surco Safari 50"x50" Roof Rack, GetLost4x4 bumper, Bulldog 9k Winch, GetLost4x4 Rock Rails - (should have added a snorkel)
Nice pictures! Looks like you and the family are having a great time together.
Senior Member
Join Date: Aug 2007
Location: Burgundy
Posts: 130
Nice moments and beautiful pics.You have adorables childs. I like yours tires also.
Currently Active Users Viewing This Thread: 1

(0 members and 1 guests)