Damaged Goods.
---
Got into a little T-Bone action today. Wasn't too bad and could have been much worse. Both the other driver and I were ok and no problems. I am thankful for that. Also I was very impressed at little amount of damage that occured from the impact! I'll bet that i slid about three feet in a sideways direction, so it wasn't a slight collision. Very Impressed with the commanders strength! The other car lost the complete front bumper and busted the radiator. I am just feelin really sad for the Commander. She is like a part of the family now and it's like having a child with a broken bone
I am just looking for some reassurance that she'll one day look and be just like new.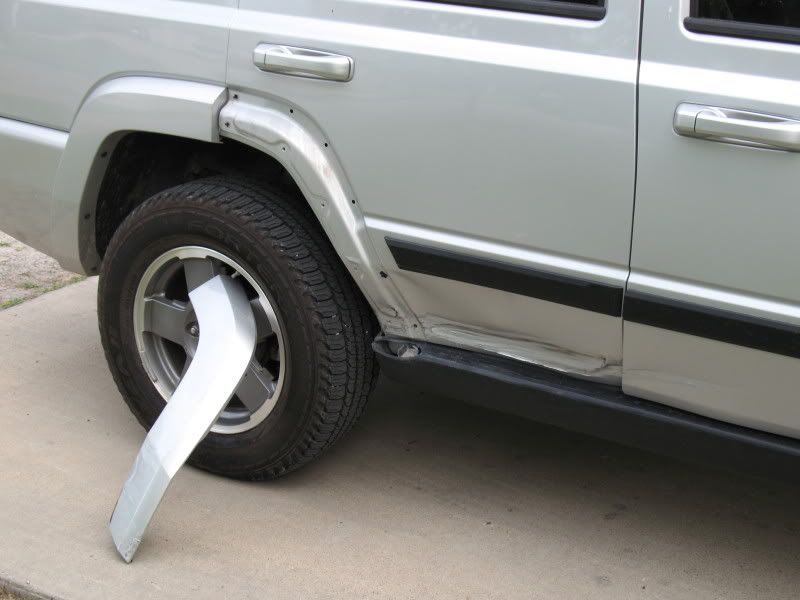 Hey don't worry one day she'll look and be just like new. :biggrin:

Seriously, glad everyone is ok and hope you get it back better than ever.
Take 2 aspirin and call the body shop in the morning.
Thanks for the support fellas! The funny thing was that the person who hit me was an old classmate and friend I haven't seen since high school.
---
Last edited by BigBoss84; 04-28-2009 at

11:48 PM

.
I thought he hit you. Nice running into an old friend, huh?
Ouch!

I always wondered what it looked like under the flares. I had thought about taking them off back in the day for more tire clarence but figured it wouldnt look to pleasent underneith.

Glad everyone's ok!




---
2007 4.7 Liter XK | Front OME MD Springs w/Superlift Preload Spacer | Rear 4" Superlift Springs | Bilstein 5125 Rear Shocks | JBA UCA's | Rusty's Rear Adjustable Track Bar | Black Rock 997 Wheels | Fred Goeske 1/4 Inch Wheel Spacers | 305/70R17 Goodyear Wrangler MT/R w/Kevlar | Airflow Snorkel | Flowmaster 40 Series Muffler | Superchips Flashpaq | Mopar Skids | 4xGuard Belly Guard | American Rebel Rear Diff Cover | Rear Powertrax No-Slip | Front E-Locker | Rear Heat/AC Delete
Quote:
I thought he hit you. Nice running into an old friend, huh?
fixed it for u good sir
Sorry to hear about the Commander, glad you are all okay.




Ok, so, who hit who? Diagrams? Pictures? PPT show?
---
RIP - Silver '06 Limited; 5.7 Hemi; 2" TerraFlex Lift; 255/70R17 Bridgestone Dueler REVOS, Horizontal Inclinometer, Signal Frog Antenna Ball, Surco Safari 50"x50" Roof Rack, GetLost4x4 bumper, Bulldog 9k Winch, GetLost4x4 Rock Rails - (should have added a snorkel)
Currently Active Users Viewing This Thread: 1

(0 members and 1 guests)