First Tow w/ Commander
---
Well, it was finally time to test the Jeep and hook it up to our horse trailer. I was really suprised how it handled the trailer. Didn't squat down too bad and actually handled the trailer well without the stabilizer bars attached. Quite a bit of change from the old Dakota we used to have.
Some pics;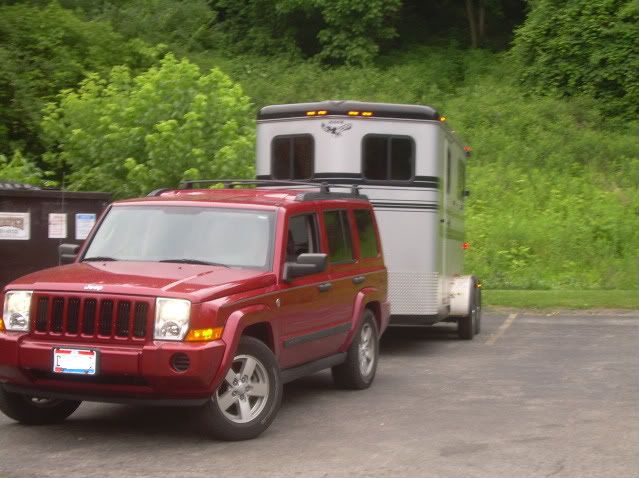 Took it for a spin around the parking lot; dont have the trailer brake controller hooked up yet. Handled it like a champ though. However, if I keep the hitch in, it sets off my backup sensors. Meh.
---
Last edited by VooDooPlanksta; 06-17-2009 at

07:02 AM

.
you know ,you can turn off the reverse sensors.
Moderator
Join Date: Mar 2007
Location: Lake Havasu City, Arizona
Own a Commander?: Yes
Model year: 2006
Trim Package: Sport
4WD
If 4WD - system: QD-II
Current Mileage: HueyPilotVN
Posts: 2,248
My Backup Sensors just turn themselves off automatically because of my rear tire carrier. They beep once and then turn off about the time I start down the road.
---
2007 Jeep Green Limited 4.7 Flex Fuel, RR 2.5" 4 inch Superlift coils on rear, 1.5" Spacers, Bridgestone 265/70/17, K&N CAI, Flowmaster, Diamond Plate Locking Trunk, Blue Ox Baseplate w/D-rings, "Get Lost 4X4" Front Bumper, T-Max 9000 winch, "Get Lost rear tire carrier, 30 gal second gas tank.
Second 2007 Jeep Green Limited Leather HEMI QDII VES Uconnect Flowmaster OEM Skids Tow Package

Maybe the two will meet up soon edit: they did , I now have 2,now gave 1 away...and got it back again.
Quote:
you know ,you can turn off the reverse sensors.
Yeah, I know... but what's the point of havin a shiney button that makes noise if I cant enjoy pushin it?
Currently Active Users Viewing This Thread: 1

(0 members and 1 guests)