Me and my new snowmobile
---
This fall after I bought it.
Skidoo GSX Limited 1200cc Four Stroke
On one of my recent trips to Northern Wisconsin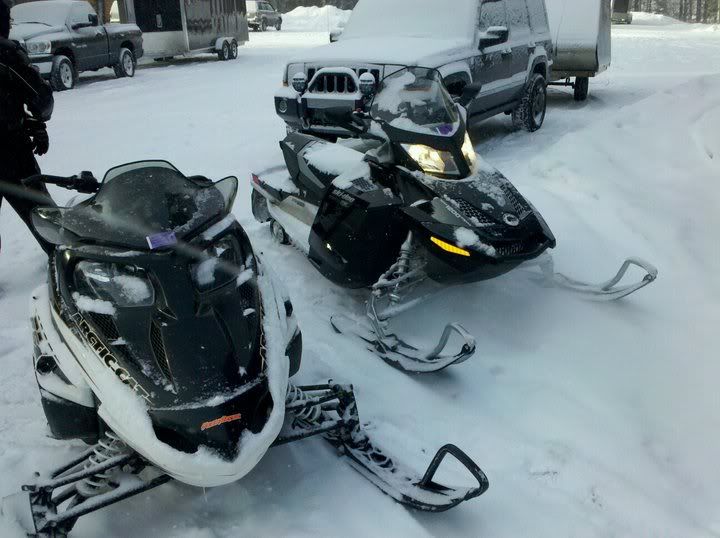 A video I edited shot with my GoPro HD camera:
http://www.youtube.com/watch?v=eB4gAJqPHNs
Memory says thats a GSXR Hyabusa engine?

Looks like it RIPS!

Thanks for the ride

Rob
Actually Robby, its a Rotax engine like those used in the Mazda RX-7 sports cars. It does rip though, tons of torque!
Are Four Strokes becoming more and more common? I know in the early days of four strokers, they were not very reliable, especially in the cold. A Good buddy of mine owns some snowmobiles and we always try to make a trip or two a year up to the UP or Northern MN, lots of fun!
Yeah, four strokes are taking off. Yamaha for instance only sells four stroke sleds now. The gas mileage is great and the torque is huge. Plus, the biggest complaint from others about our sport is that sleds are loud and stinky. Four stroke engines address both of those problems. There was a day when I enjoyed smelling like two stroke fumes since it reminded me of the day on the trail. That day has passed! I go up to the U.P. a good amount too. Do you know where you guys have gone?
Quote:
Do you know where you guys have gone?
We often times go to the Newberry areas and ride all of the trails that go out from there. We also go to Manistique. I am from Ohio so we mostly stay east or central U.P. I noticed you are from Wisconsin so I would assume you go to mostly western U.P. trails? The 2 stroke smell is part of the fun isn't it!?
---
Last edited by ninjamannen78; 02-04-2011 at

09:50 AM

.
I was gonna mention the Rotax/Rotary(Wankel) thing but you beat me to it ninjamannen78.

Rob
Currently Active Users Viewing This Thread: 1

(0 members and 1 guests)