Hi, All! I am new to this forum. I just bought a 2006 Jeep Commander Limited 5.7L Hemi. I absolutely love it. Well taken care of. I plan on putting the lift in myself. I've done it on my old ZJ, a "Cannibal Lift". It's seems that a spacer lift is the way to go if you want to go if you want to do it on a budget. I have three questions:
1) has anyone ever used the Front Clevis fork lift? Are they any better or worse?
2) Does having a 3.5" lift on the front pose any threat on the angle on my stock CV axle shafts?
3) I know that a 3" lift will accommodate a 31" tire with some trimming. But can I stuff a 33" tire under a 3.5" lift with 1.5" wheel spacers?
I don't mind trimming, and I also plan on fabricating front a rear bumpers which will give me room on the front end of the front wheel wells. And perhaps room on the back end or the rear wheel wells. But I don't want to do so much trimming where I am having cut into the floor of the cab.
Thoughts?
link: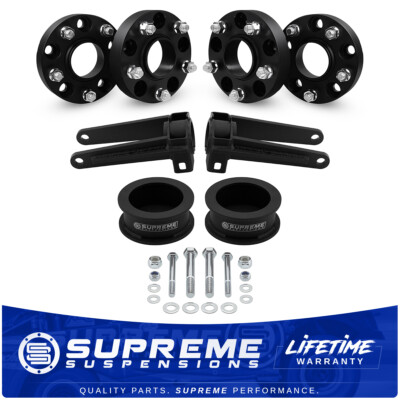 + 4pc Set of 2" Hubcentric Wheel Spacers. Includes 2 Rear Steel Coil Spring Spacer. Our Pro-Billet Series Wheel Spacers are CNC machined from solid blocks of T6 Aircraft Billet and receive a special anodized coating.