I bought this TJ new and ordered both the soft top and a hard top with a removable front overhead section. I added a tube front bumper and a winch. I also had a rubicon rack with two blitz gas cans added to the rear. It has oversized tires and quick disconnects on the front sway bars and an aftermarket stereo system with the sound bar on the center roof roll bar and it has side nerf bars. It also has diamond plate rear corners and a CB radio
The hard top also has a light bar with several types of flashing lights similar to a tow truck light bar.
A few years ago a friend of mine was having money problems so I gave him this Jeep and paid the insurance and registration for a couple of years to help him out. I just got it back yesterday and it is at a shop of a friend being checked out and detailed. I have not seen it but I kept it detailed and it looked new when I gave it to him.
Here is a picture of the TJ.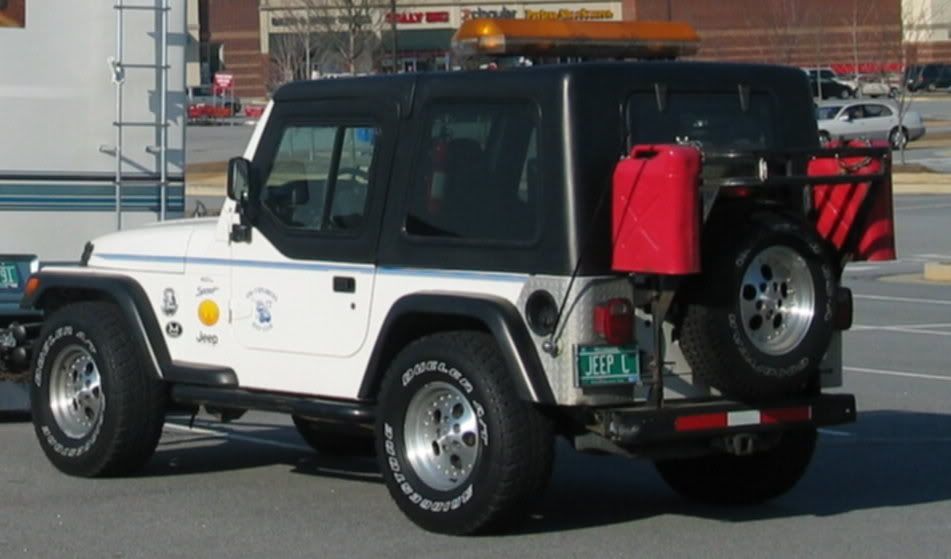 It has the 4.0L six cylinder, automatic transmission, soft and hard tops, new brakes, 110,000 miles, it had 70,000 when I gave it to him a couple of years ago. At that time I had a Jeep dealer go thru it and he changed the timing belt to be safe and replaced all the tires. It is a 97 model and I kept it in storage at the family compound in California for several years while I traveled. I would take turns either pulling the Mustang convertable on a trailer behind the motor home or towing the Jeep TJ. I have had no problems with it. I tried to give it to my grown sons earlier, but they parked it in the garage. They said it looked too much like a police car and their friends kidded them about it. I love my sons but they are not typical kids, they are computer nerds.
It is located near Washington DC. A friend of mine went back to take care of getting it checked out in a shop and to get it detailed for sale. He may have even sold it today because I told him he could. My aunt is paying for the wedding of her grandaughter this month and I am going to sell the Jeep and send her the money to pay for the wedding, otherwise I would just keep the TJ. However, I do have too many vehicles as it is for being on the road. I usually have to store one or more at a time.
I looked up the Kelly blue book with the options that it has.
Trade in value..............$6.400
Private Party sale..........$7,765
Retail..........................$9,240
I am only looking to send my Aunt $5,000 but there will be expenses for the shop, detailing, and a commission for my friend that is doing this for me.
If you are interested PM me and we will see if it is not sold yet, The owner of the shop was drooling over it and it may be gone.
edit: I forgot the most important thing....It has a gold miner hood ornament just like my Commander.