Discussion Starter
•
#1
•
As promised, here is the write-up. I wanted to make the Yakima cross-bars work with my factory rails but Yakima does not offer a set of towers to work with our XK rails. My local Yakima dealer wanted to drill holes in the outside edge of the rails and install the 1A tower adapters. I did not want to drill any holes plus I wanted to be able to adjust the distance between the cross-bars for different accessories.
My solution was;
To make a set of plates that the Yakima Rail Rider towers could be bolted to and then clamped into the factory rails.
I got all of the hardware needed at the local hardware store, they are;
1) 1-1/2"x1/8"x48" long piece of flat aluminum
8) 1/4"x20x1" button head stainless steel bolts
8) 1/4"x20 stainless steel lock nuts
8) 5/16"x18x1-1/4" button head stainless steel bolts
8) 5/16"x18 stainless steel lock nuts
8) 5/16" I.D x 1/2" long nylon spacers
4) Yakima rail rider towers and 2 crossbars of your choice, mine are 64" I believe.
First, take the 48" piece of aluminum flat bar and divide it into (8) 6" long pieces and make your cuts. I used my horizontal metal saw but a hack saw will work.
Second, drill the plates equally. I clamped all 8 plates in my drill press vice and drilled the holes through all 8 plates at one time, you will need a hole at each end of the plate and centered on the plate, this hole needs to be 5/16" dia.
You will need (2) 1/4" holes drilled centered on the plates for the rail rider towers
The plates will look like this; Also note the nylon spacers in the pic, this is what you need to pick up at the hardware store.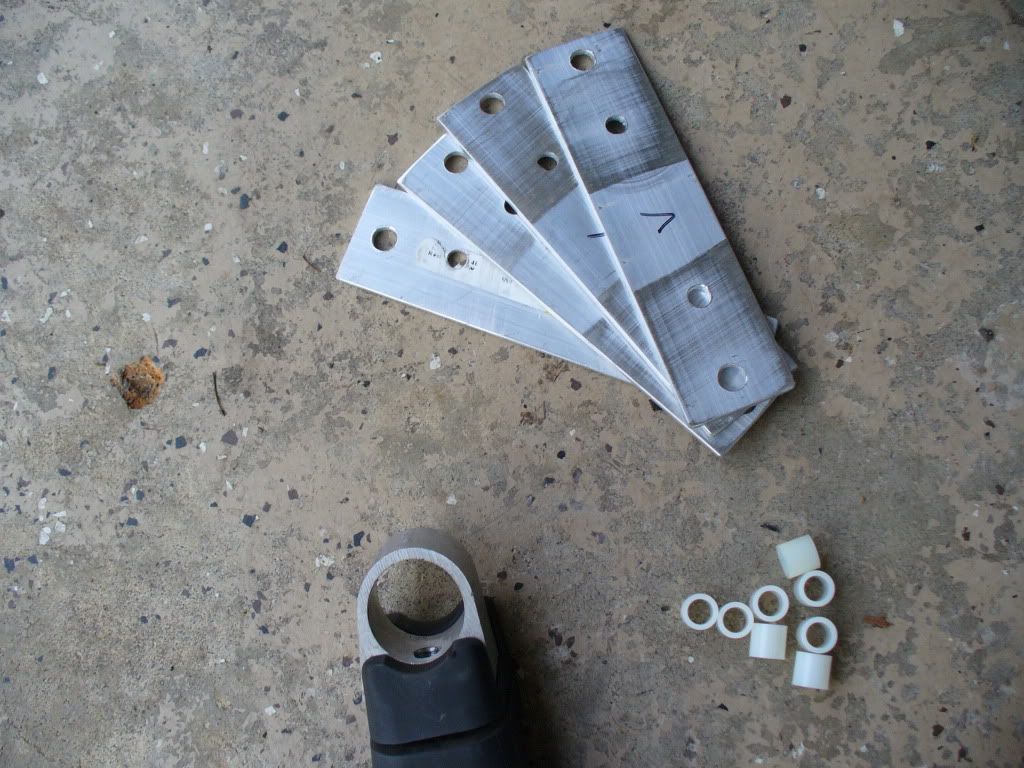 Mount the rail rider towers to 4 of the plates like this;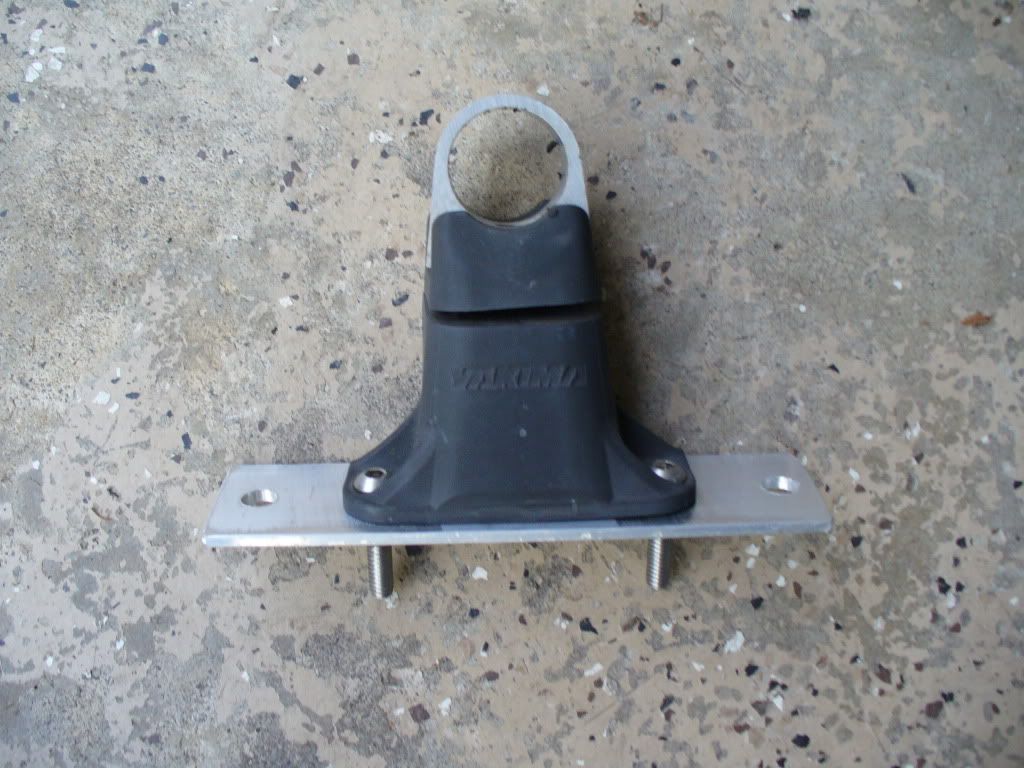 Now mount the towers to the XK rails using the extra 4 plates under the lower lip of the XK rails. Use the nylon spacers to prevent over-tightening and crushing the rails. They should look like this installed;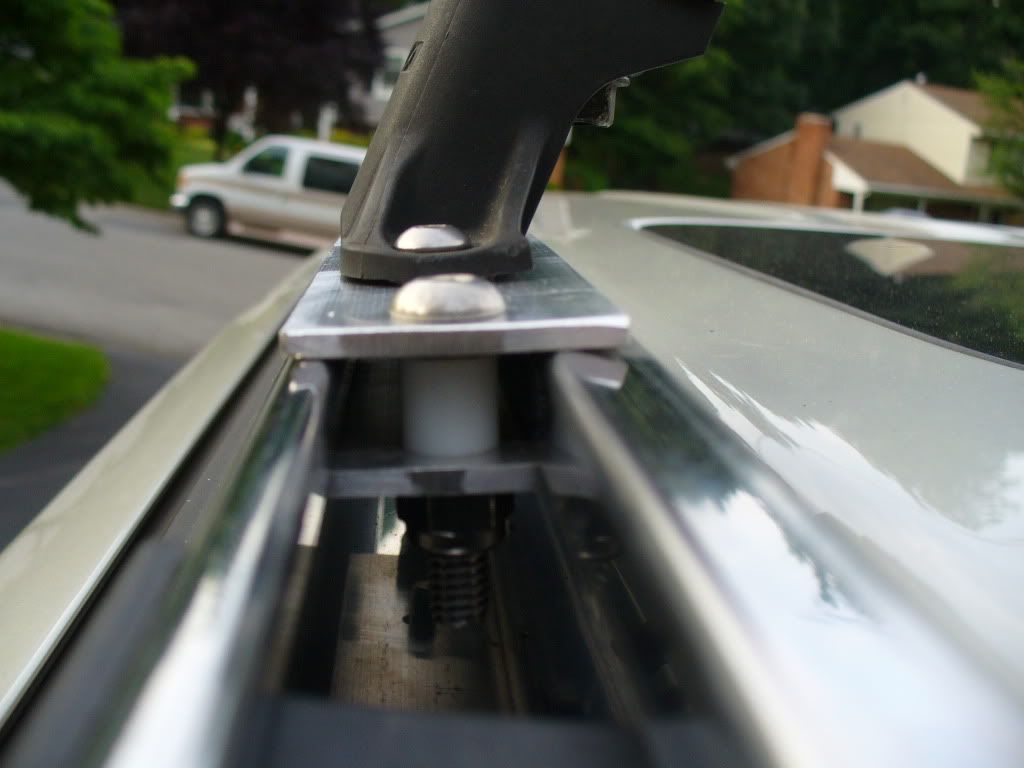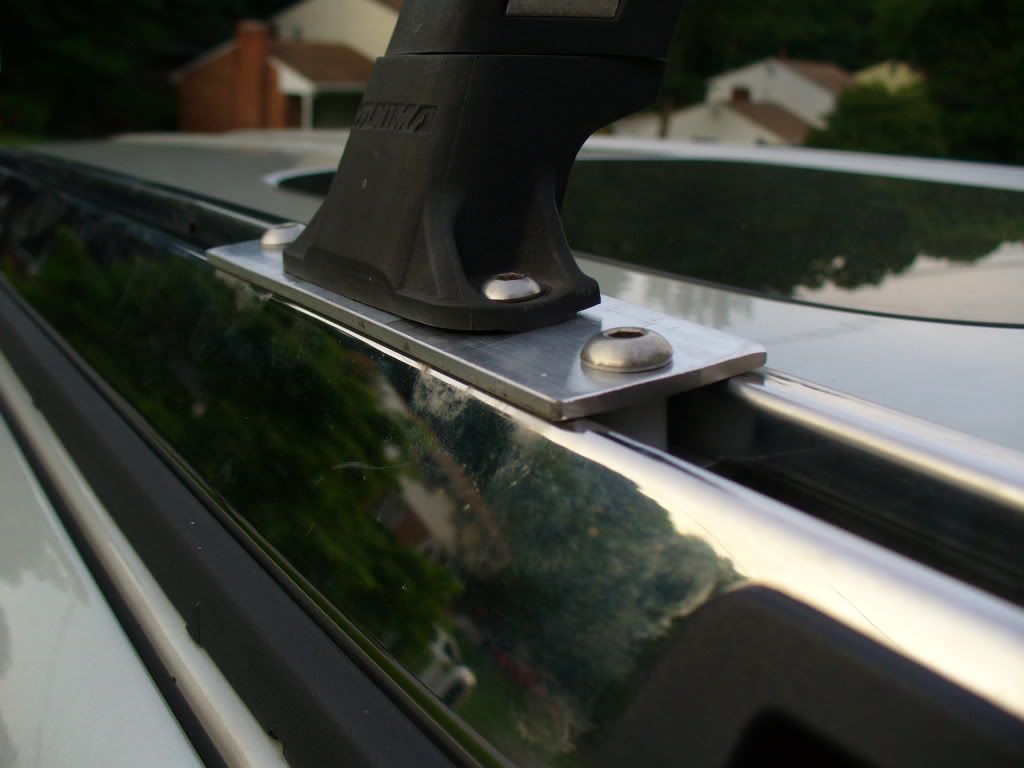 I left everything loose until the crossbars were fed into the towers then tightened it all down. Here is the finished rack ready to haul our canoe and kayaks to the river.